The Northfield School Board unanimously approved a bonding bill for a new Elementary School last night.  Superintendent Dr. Matt Hillmann said, Included in that $41 million is a new Elementary school on the campus of Greenvale Park, renovating the current Greenvale Park into a district wide Early Learning Center,  will help relieve space at Bridgewater elementary and at Sibley.  As well as some minor renovations at Longfellow.  Input through community members was more positive on the
Early Childhood Learning issue as opposed to also building a new high school which failed last year as they attempted both projects at $109 million.  As it is, the price tag for the Elementary element has already rose by $4 million due to construction costs. Board Chair Julie Pritchard said the hardest part of their job is to ask voters for dollars, but reiterated the need.  She said the tax impact on a $250,000 home would be $27 per year, for a $1 million business, it would be $219 per year. There will be more public education on this item as we move toward November. The Board also voted to retain Superintendent Dr. Hillmann through 2022.  Hillmann, Pritchard and Vice Chair Ellen Iverson were in studio this morning. Their full interview is online HERE. 
Aurora expansion will go to Council

Aurora Pharmaceutical is planning an expansion to the rear of their building at 1200 Highway 3 South. With a nod from the Planning Commission after a public hearing regarding the purchase of a portion of Northfield owned parkland and a nod from the EDA, the project will move to the City Council.  City Planner Scott Tempel said the proposed acquisition site is about a third of an acre. Aurora will pay market value at just under $23,000. The land will be used for drainage purposes and to meet building setbacks. The area sits next to the E. Cannon Trail. Aurora building manager, Randy Ernst said they're working hard not to kill any trees.  In fact, they're paying extra dollars to bore underneath them as much as possible, they'll build a retaining wall that will be aesthetically pleasing.  They also plan to add more trees and shrubs as possible.  He said they'll add picnic tables and a pleasant seating are off the trail.  Commissioner Betsey Buckheit motioned for approval saying, that it is "very much" in conformance with the City's Comprehensive Plan.  Drs. Strobel and Werner asked the EDA to form a TIF District.  EDA Coordinator Nate Carlson explained to the EDA that this would allow them to use that money for the site improvement costs.  They were approved for a $231,336 TIF over 8 years. Aurora Pharmaceutical manufactures veterinary medicines. Their plan is to add 25,000 square feet to their current 85,000-square-foot facility.  The plan, as mentioned, will now go before the City Council.  Site Plan Survey Building   2 – Application Materials
Division to open today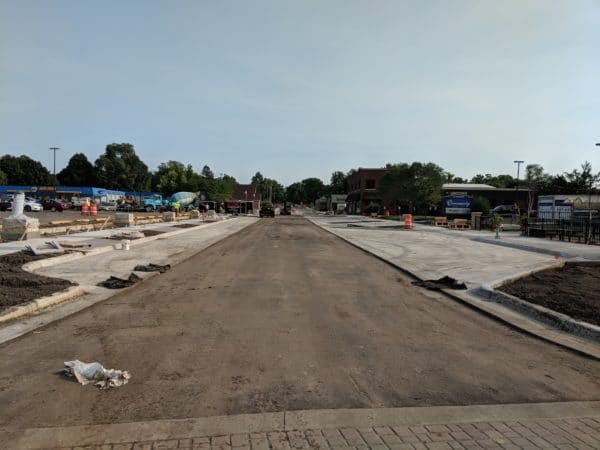 Today's the day!  Division Street between 6th and 8th streets is set to reopen to traffic today, according to Engineering Manager Sean Simonson.  They're putting in some final touches including planting trees. The project will continue as it moves to 7th Street between Water and Washington, that stretch will close today for a reconstruction. Stage 2 also includes a mill and overlay of Washington St. from Woodley to 2nd St. and various Parking Lot Rehabilitations.  The entire $3.7 million project is expected to be completed by late-October.