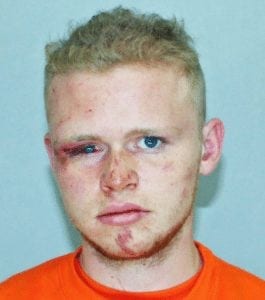 A Northfield man is in jail in Cook County after allegedly strangling a woman and biting part of a man's finger off at an event meant to celebrate life.  20 year old Spencer Fredrickson admits being on hallucinogenic drugs when, according to the criminal complaint, assaulted a 40 year old woman at a Rainbow Gathering in Superior National forest.  The Sheriff's office reports that on Saturday night, Fredrickson was spotted rummaging through cars when he startled someone who screamed a safe word. A woman, the 40 year old victim, saw him run into the woods, crying.  She went to comfort him as she could tell he was on drugs. He then groped her. After telling him no, he started to strangle
her, at one point she was able to scream for help. Then attempted to pull her jaw apart by force.  A group came to her aid, that's when part of the man's finger was bit off. The woman said she believed he was trying to kill her and that it felt like he had "superhuman strength". The group were able to restrain him with duct tape until law enforcement arrived.   Cook County Sheriff's Deputy Andrew Hayes arrived on scene to assist, and while trying to prevent Fredrickson from cutting off his own circulation, he assaulted the Deputy breaking the skin through his gloves. Fredrickson admitted to being on LSD and LSA deriving from Morning Glory seeds. Both assault victims were treated and later released at the North Shore Health Hospital in Grand Marais. Fredrickson is being held on $200,000 bail charged yesterday with 1st degree assault and 4th degree assault of a peace officer.  His next court appearance is November 13th. The Rainbow Family of Living Light, a loose-knit counterculture group formed in the 1970s, holds regional and national gatherings on public lands to "discuss political and environmental issues, pray for world peace, and celebrate life," according to the U.S. Forest Service.  NOTE:  There is an order for a mental health evaluation and for a competency evaluation.
Pair charged after "acting strangely"
What started as a report on a runaway turned into a drug arrest in Faribault.  Around 9 o'clock Sunday night, a Faribault police officer was taking information from a man in the 800 block of Spring Road, who said his daughter had run away when a vehicle drove by them slowly, made a u-turn and then stopped in the middle of the street.  Turns out the two men in the car didn't have the daughter but did have drugs. 19 year old Tyrese Exavierre Jung of Forest Lake, the driver, and 21 year old Travis Victor Hare of Roseville, were acting strangely. According to the criminal complaint, marijuana was found in the passenger seat.  Under the drivers seat was a little over 5 grams of marijuana wax and in the glove compartment was nearly 3 grams of methamphetamine. The pair tried to conceal the meth by hiding the key to the glove compartment in a shoe. Jung is charged with 2 counts of felony 5th degree drugs and Hare one count.  Both are out on bail with court appearances in September.
School means transitions
School starts next week and for many children it's a time of transition. Earlier this month, Superintendent Dr. Matt Hillmann explained, they held a program called Bridges to Kindergarten, a 2 week program to help them learn what it's like to go to kindergarten.  Hillmann said that preparatory experience, try it before the first day, the transition will be smoother.  The next transition is 6th grade into middle school.  Tomorrow they'll hold a WEB program, Where Everyone Belongs.  Eighth grade students apply and are selected to mentor sixth graders, they call WEB buddies.  They have a welcome ceremony for them, give them tours, share what Middle School is like and have matching t-shirts that they'll wear the first day.  And then there's the Link program at the High School. Selected Junior and Senior students will provide some activities and mentorship to incoming Freshman.  It's important to have a "friendly face".  School officially begins September 4th.