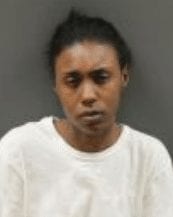 A Faribault woman was charged late this morning in the stabbing death of 52 year old Michael Bongers.  Faribault Police, fire and ambulance were called just after 9 o'clock Friday night to an unknown medical at 1155 Willow St.  They found Bongers with a stab wound to his chest. 24 year old Judana Williams, with whom he had a relationship, said they got into an argument and she stabbed him.  Bongers was transported to District One hospital where he died. According to the criminal complaint, Williams told officers that he ran up on her. Based on the blood trail, it appeared that Bongers was stabbed in the bedroom and made it to the
kitchen where officers found him.  Around 7 that morning the pair had done cocaine together. Williams said he wanted her to drive to Owatonna to get more. She refused and a fight started. The preliminary autopsy indicates that, in addition to the chest wound, he had defensive wounds on his left forearm and shoulder.  Williams was convicted last year of violating a no contact order obtained by Bongers last year. She was just sentenced on that 2 weeks ago, receiving two years probation. She's charged with 2nd degree murder with intent not premeditated and 2nd degree assault with a dangerous weapon.  The most serious charge carries up to 40 years in prison. Bail has been set at $100,000 with conditions. Her next court appearance is September 24th.
Nfld council poised to create policies on Streets and Utilities
The Northfield City Council spent just over an hour discussing about a dozen Public Works
streets and Utilities policies last week.  Administrator Ben Martig said one goal is, "to create some expectations on service delivery that transcends leadership of staffing that might come and go".  While they respond to complaints, these policies would be more proactive from a maintenance standpoint.  He added, "so if the Council approves those, we've got these policies we can go to and say this is what we're expected to deliver, here's our turn around time.  You can share it with the community and say here's our policy on that and then when people come and go it's got some staying power behind it".  The policies ranged from the banners that hang from light poles to water and sanitary sewer maintenance, along with street plowing and sweeping and boulevard trees.  Mayor Pownell commented on the banner policy which includes approval by the Arts & Culture Commission and the HPC on design. Her question was about when the approval would go beyond the the boards and commissions and have to go to Council, specifically pointing out the rebranding of Northfield Hospital and Clinics.  She said, "I just know that in the past the Northfield Hospital has went from the traditional City of Northfield colors to pink and green being their colors and that never came back to the Council and so I just wondering at what point does the council weigh in on rebranding issues".  City Engineer Dave Bennett said they could create a policy for that.  This will come back to council.
The crowds, the raids, the parade and the beards – DJJD update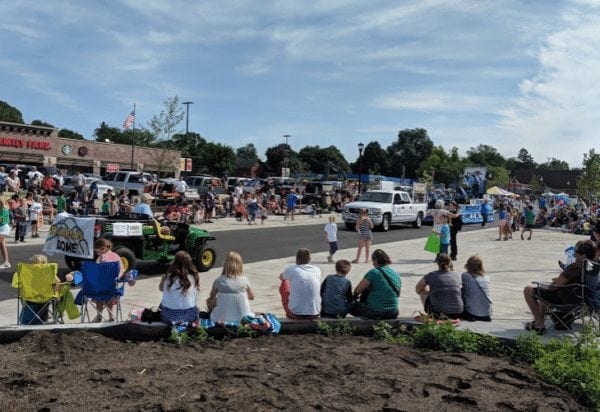 While it was iffy before hand with the threat of the Cannon river flooding, the weather turned out 5 star for the Defeat of Jesse James Days.  The carnival had to be moved and was a bit smaller but it didn't seem to deter business. Although official numbers aren't in, attendance seemed to be up for all the events from the Rodeo to the Car show to the Parade and the list goes on!   Division Street from 8th to 3rd streets was lined with folks of all ages for the parade yesterday. Dokmo Ford had fun with a truck hauling a dunk tank, the kids had a chance to "dunk the chunk". Pictures are on kymnradio.net. Back this year was the Beard Contest.  There were several categories. Police Chief Monte Nelson suspended the beard policy so, plenty of Northfield police officers lined up but Officer David Jandro took title for Joseph Lee Heywood Full Beard and Mustache category (this is a correction for Jandro)  and Deputy Chief Mark Dukatz for best Jesse James Goatee. TZD's Kathy Cooper reports that JoyRide was a hit again !  The shuttle made 7 trips and gave at least 58 riders a safe ride home.  Chief Nelson said it was a quiet weekend with just a couple of citations for disorderly conduct, a couple of people went to detox, one will be charged.  And the usual parking issues, a couple vehicles towed for the parade, 2 minor crashes and a couple of bee stings.