"We have a crowded docket, we have a lot of work to do", Rice County Attorney John Fossum commenting on drug cases and child protection.  Since in office, he's added a full time drug prosecutor along with a part-time and a full time attorney to handle child protection cases.  As for funding, he said, "the County Board has done a good job in terms of giving us an opportunity to meet those obligations and we added a lawyer this year, in part
because of all of these demands".  Fossum's office has been seeing an increasing caseload due, in part, to the Cannon river drug and violent offender task force.
Patience leads to largest drug bust in the State
Speaking of the Drug Task Force, the announcement on Friday of the largest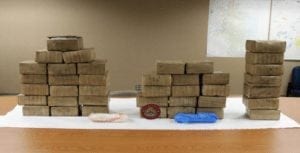 methamphetamine bust in the State's history started in Rice County.   The Task Force, which includes Rice County deputies, Faribault and Northfield police and a LeSueur Deputy, began working a case in January. Following leads, the drug trail led them to a home in Minneapolis where they seized nearly 171 pounds of meth, a sawed off shotgun and took 4 men into custody.  Sheriff Dunn, "we had some good information that this might turn out to be a bigger thing but we never imagined that it would come out this big".  In collaboration with Minneapolis and Homeland Security, the Drug Task Force agents had the patience to continue to follow the hierarchy of the drug dealers, Dunn said, "our targets are to find the larger dealers but a lot of times you just run into road blocks and you can only get so far and the agent stayed on this".  That amount of meth has a street value of nearly $8 million.  Dunn said their job's not over, they'll keep at it.  MEDIA RELEASE – Meth Seizure 2018 – vs.2
Nfld looks at possible levy of nearly 10%, Meet & Greet for Interim Comm. Dev. Director
Northfield Council meets tomorrow night.  On the agenda is a preliminary levy. They begin
with a 4.9% option all the way up to 9.86%.  You can comment online through noon tomorrow on the city's website.  Here is the link .  The City will also announce the hiring of an Interim Community Development Director.  City Administrator Martig has selected Michael Ericson to fill in for Chris Heineman. Ericson comes from Brooklyn Center where he was the Interim.  He has twenty-nine years of public service in city government. There will be a "Meet and Greet" between 4:45pm – 5:15pm this afternoon before a joint City Council/Charter Commission meeting at the Northfield Police Department.  That meeting begins at 5:30 and concerns the ongoing issue of the Charter asserting that the Mayor report to the full Council a status of Administration once per term. Council and Charter don't agree on the details, including language that the Charter has regarding "waste" by administration and/or operations.  The public is welcome to attend.  1 – Possible Alternate Charter Amendments for section 3.8 v
Longtime Docs Wille and Shepley to retire
Dr. Wille and Dr. Shepley are retiring at the end of this year.  Two nearly legendary Orthopedic surgeons with Northfield Hospital and Clinics for thirty years.  CEO Steve Underdahl said in a, "market our size", lots of people would go to large metropolitan areas to get orthopedic services, "we've really had orthopedics as a core competency".  As they begin to retire, they've been working with three young partners for a few years.  Drs. Clinton Muench and Hans Bengtson, both of Northfield.  Bengtson met Shepley when he was in the 8th grade.  Dr. Eric Stroemer is the 3rd partner. Underdahl said, the new partners are all experienced physicians.   Together, Drs. Shepley and Wille have seen about 150,000 patients.