Northfield City Council approved the 2019 Utility Rate Study last night.  Mayor Rhonda Pownell said, "we have water increasing to 1%, waste water to 1.75% increase, storm sewer increasing to 5% and garbage that stays steady".  She said the average increase to the homeowner will be just over a dollar a month.  She added that before the rate study, the increase would have been more. Council discussed the 2019 Street Reclamation projects.  They will be in the northwest area of the City and include a full reclamation of 12
inches, additional sidewalks and repair some curbs. The feasibility study was approved. There was, once again, some discussion as to how areas are assessed.  Staff was given direction to review the benefit appraisal in particular around cul-de-sacs. That will come back to them on November 20th for a work session. Staff has set a neighborhood meeting for November 14th.  (Reclamation starts on page 10 10-16-2018 Supplemental Memo No.1 )   Pownell and Martig were in studio this morning.  Their full interview is on kymnradio.net.  Mayor Rhonda Pownell was recognized for her service to the League of Minnesota Cities Insurance Trust last night during the Council meeting.  
Glaring issues to current Northfield Ice Arena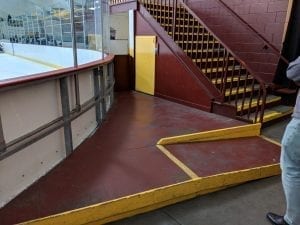 The current Ice Arena was brought to Northfield decades ago to be a temporary home while a proper Ice Arena was being built.  Instead it became the permanent home of hockey for better or worse. Longtime hockey coach, Brent Bielenberg, gave a tour of the facility.  The issues are glaring without anyone pointing them out. Not the least of which is the coolant system, R-22, which will have to be replaced but the handicapped accessibility is nearly non-existent.  From the Emergency Exit door with a sign saying do not use, to the temporary locker room with a curtain that doesn't cover up much of anything and allows for anyone to wander in to the mold on the ceiling of locker rooms, it will take some dollars to do the minimum necessary, should the Cannon River Civic Center referendum not pass.  At the least, the coolant system must be replaced by 2020. They could choose a cheaper method, but the most environmentally friendly solution, (as Northfield council approved a climate action plan consultant for $62,000) is to convert to ammonia. That will be about $1.8 million. To tackle other issues, such as space will be complicated and, as for ADA compliance, that's not even been addressed.  As for grandfathering in… In 2010, the updated regulations removed the "grandfather clause." The estimate of renovation to the current arena are $7 million. [envira-gallery id="72891″]
LWV holds candidate forum
The Northfield/Cannon Falls League of Women Voters held a candidate forum last Saturday.  I've posted the link to the video on kymnradio.net. These are hour long videos of candidates for Northfield School District, Northfield City Council and Districts 20B and 58B House Representatives.  
Clean up volunteers needed for Rice County
Rice County is looking for volunteers on Saturday to continue storm clean up.  County Administrator Sara Folsted said there are 2 and 4 hour shifts available between 8am and 4pm.  She's asking that you pre-register by calling 833-643-7423. Leave your name, phone number and what times you can work.  Volunteers will be bussed from the Rice Co Fair grounds 4H building to areas that need help. Bring gloves and rakes and wear appropriate clothing.