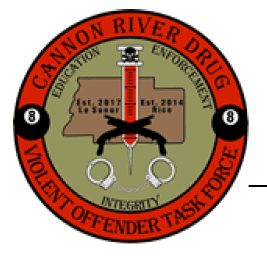 Nearly 200 pounds of methamphetamine, over 10 pounds of heroin, over one and a half pounds of cocaine, and numerous other illicit drugs such as prescription pills and hallucinogens have been taken off the streets by the Cannon River Drug and Violent Offender Task Force.  From June to October of this year, "Operation Sound of Silence", has also netted 63 people, half of which have previous felony convictions or have been previously charged for controlled substance crimes.  Multiple Federal indictments have also resulted from this operation. An additional 40 people were charged with a variety of other crimes.   In addition, multiple firearms have
been seized including two sawed off shotguns and one suspected submachine gun.  Since the formation of the task force in 2014, they've seized a street value of over $10 million worth of drugs. Sheriff Troy Dunn commented, "I know I'm speaking for Monte and Andy and the other Chiefs and Sheriff Mason in LeSueur County but hats off to our men and women, we're very proud of them and I hope they get rewarded for the great work that they're doing here in Rice and LeSueur counties".   The task force involves law enforcement from both Rice and Le Sueur sheriff's offices and Faribault and Northfield police. These large busts take time and commitment by law enforcement to get as far up the drug chain as possible. Operation SOS media release
Nfld man charged in drug deals at Taco Bell
A Northfield man is charged with 2nd degree sale of drugs.  21 year old Brandon Steven Underdahl is in custody after buys were set up with an undercover agent of the drug task force.  Underdahl told the agent he could get nearly any kind of drug except heroin and crack. After some negotiations and failed attempts on the part of Underdahl to secure methamphetamine, they set up buys at the Taco Bell in Northfield.  One buy was 3.5 grams of meth, the other was a little over 2 grams of marijuana. 2nd degree drug sale carries a sentence of up to 25 years. Underdahl is also charged with 4th degree sale, which carries up to 15 years in prison. His initial court appearance is November 15th.  
Man arrested in home invasion in Cannon Falls
A Minneapolis man is in custody in connection with a home invasion in Cannon Falls in May.  After months of investigation, 33 year old Aldray Devon Young appeared in Goodhue County Court Wednesday where bail was set at  $50,000 with conditions.  According to the criminal complaint, 2 black men rang the bell of a home in the 29000 block of 90th Avenue Way.  When the man answered, one of the suspects pointed a gun at him, shoved him to the floor. The two suspects then searched the home, finding cash, gift cards and guns.  A half hour
later, they tied the couple up in a basement bedroom. All told, they took nearly $2,000 in cash, $900 in gift cards and 4 guns. Young is charged with 2 counts each of kidnapping, aggravated robbery,burglary with a weapon and simple robbery.  The investigation revealed that the vehicle used had an Intoxalock. The driver must blow into a breathalyzer before being able to start it, it also takes pictures and tracks the vehicle. Young was driving but the vehicle belonged to a relative of 29 year old Terrell Reese Schaeffer.  There is an active arrest warrant for Schaeffer, with the same charges as the complaint filed on Young.  Young's first court appearance will be in Goodhue County on November 14th.
Live Facebook Q&A on Civic Center
If you have questions regarding the Cannon River Civic Center referendum, Northfield Mayor Rhonda Pownell and Administrator Ben Martig will be holding a Facebook Live Q&A session today from 1pm to 2pm.  It is hosted by the City of Northfield. Here's the LINK
Early voting is available through Monday.  Click for information in Northfield: absentee voting
Klobuchar to be in Northfield
Senator Klobuchar will be here in Northfield tomorrow for a get-out-the-vote rally.  Klobuchar will join Angie Craig as we head into the last weekend before the election. They'll be at the Sayles-Hill campus center at Carleton College. Doors open at 11:30 AM.