In April of last year, 25 year old Elizabeth Osterbauer of Minneapolis, was charged in Rice County with one felony count of cruelty to animals along with other lesser charges. On Friday she was convicted in Hennepin county of burglary and for killing the dog of a woman who spurned her romantic overtures.   Hennepin County Attorney Mike Freeman announced Monday that Osterbauer, who will turn 26 next week, was found guilty Friday afternoon of two counts of second-degree burglary, one count of mistreating/torturing an animal and stalking. In the burglary, Osterbauer spread kitty litter all over the house and
used it to plug the toilet so the water backed up and ran through several rooms and into the basement. Under the Minnesota Sentencing guideline, Osterbauer is likely to receive three years on probation and several months in the Hennepin County Workhouse.  Sentencing is Dec. 13. As for Rice County, in late 2016, while searching a New Prague property for those burgled items, Minneapolis police discovered 66 dogs living in deplorable conditions.  Rice County attorney John Fossum commented at the time, "she wasn't taking care of them, she was sort of masquerading as an animal rescue person but in a real sense it was the animals needed to be rescued from her".  He said she was at the residence for less than 6 months, bringing the puppies up from southern shelters and selling them here.  The complaint said she was charging $400 for the puppies. A jury trial is set in Rice County on February 11th.  Osterbauer – Rice County complaint
NHS grad becomes Instructor at Navy's Surface Warfare Officers School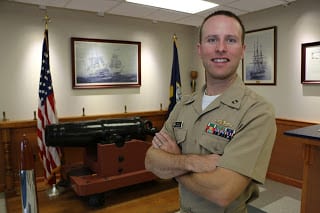 A Northfield High School graduate has become an instructor at the Navy's Surface Warfare Officers School in Rhode Island.  Lt. Matt Gallagher graduated from Northfield in 2007, graduating from college in 2011.  His eight years of naval service, turned into an opportunity to teach the tactics of surface warfare.  As Instructor, he'll ready sea-bound warriors to serve as officers, enlisted engineers, and enlisted navigation professionals.  Gallagher said, "I learned the importance of hard work and perseverance in Northfield as well as the importance of rigorous study." He's most proud of completing a 10-month deployment to the Arabian Gulf aboard USS Carl Vinson.  While deployed, he qualified as officer of the deck, responsible for driving the aircraft carrier. They helped push back ISIS from strongholds in Syria and Iraq. As fourth-generation military, Gallagher said he has an opportunity to give back and serve our country.  The full press release is HERE.
Election Day – an Act of Citizenship
With early voting having been strong all over the country, including Northfield, it will be interesting to see what the polls are like today. City Clerk Deb Little will be working overtime tonight tracking voting results.  She'll post those results to the City's website, likely by 11 o'clock this evening. KYMN will also be keeping an eye on the polls, which are open from 7am to 8pm. If you aren't sure where to vote, go to the MN Secretary of State website for that information along with your ballot information.
ACC accepting nominations
The Arts and Culture Commission of Northfield, in partnership with FiftyNorth, continues to accept nominations for their 2019 Living Treasure Award. The Nomination Form and Award Criteria can be found on the Arts and Culture Commission page of the City Web Site.  Completed nominations will be accepted at FifityNorth and the Northfield Public Library until 5 pm on November 23rd.