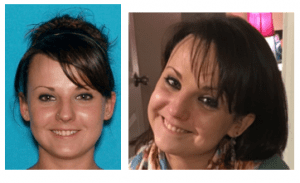 CANCEL 8:37am 2-1  Cancel Goodview PD missing person Leigh Meska alert. Leigh was located safe in Illinois. Thank you to all who helped look for her.
The Goodview Police Department is seeking the public's assistance in locating Leigh Elizabeth Meska, 31, of Goodview, Minnesota. Leigh left her residence for work in Rochester Wednesday morning but did not arrive and no one has heard from her. Because of the weather and the fact that this is out of character for her, authorities are concerned for her welfare. Leigh was driving a 2014 gray Chevrolet Impala with MN license plate 136MWK. She is described as 5'03", 125 pounds
with green eyes and brown hair. Leigh was wearing a sweater (unknown color) with black leggings and a red jacket. Searches are ongoing but authorities are asking the public to keep an eye out along roadsides and ditches and other locations for her vehicle. If you think you have seen Leigh or her vehicle please call the Goodview Police Department at 507-452-1500, Winona County Law Enforcement Dispatch at 507-457-6492 or dial 911.