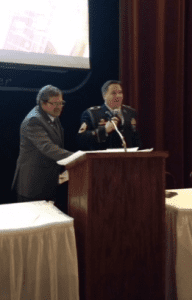 There are 34 men on the Northfield Fire Department, an all volunteer organization. NAFRS held their annual awards banquet last month. Receiving plaques for years of service were, Jeff Mahacek and Micheal Kruse with 45 years.  T.J. Dvorak, Pete Jirik and Tom Nelson for 30 years in and Wade Canedy has 25 years in.  But the Firefighter of the Year Award went to a man whose life is dedicated to service.  Born and raised in Northfield, Darrin Stowe is works fulltime for the Army National Guard.  He's been in the Army for 17 years, the last 12 fulltime.  He also volunteers at the VFW.  He's been with NAFRS for about 3 and a half years.  He was late to the banquet as he had a duty to perform so his wife accepted the award on his behalf.  He added, "they were kind enough to present the award to me again once I was able to get to the banquet at the end of
the night". He said he felt honored and humbled by the award giving credit to all 34 on the department who give their time.  Stowe said the department typically gets 25 to 30 fire calls a month and about the same in medical calls. In a year, that's about 500 calls.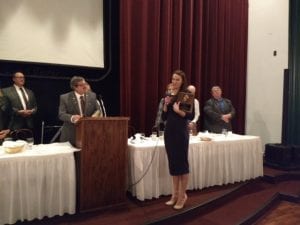 Their busy season is Fall with the real dry conditions but Winter can be busy with furnaces. He had some advice for the public.  Make sure furnace rooms/utility closets are clear of debris.  Oftentimes people store things in those areas and some times they're combustible.  He added that, "those are some of the hardest places to fight a fire".  Typically they're in the basement, it's dangerous for them to navigate the stairs and you can't see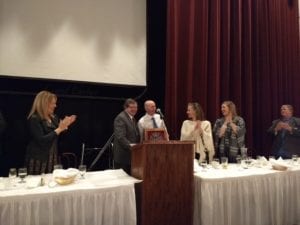 anything.  Keep those rooms clear and the snow cleared from your fire hydrant.  He thanked the Fire Chief and all the firefighters and mentioned that they'll be recruiting new firefighters this Spring.  He invited those that are curious to stop by the Fire Hall.  Chief Franek called Stowe a "get 'er done kind of guy" and a "future leader" for the department.  Additionally these men were recognized for 10 years of service:  Dean Erickson, Josh Hall, Tommy Mulligan, Andrew Tussing, Jeremy Webber and for 5 years of service: Steve Noreen, Justin Raabolle, Chad VanZuilen
KYMN partners with Rice Co. Smile Drive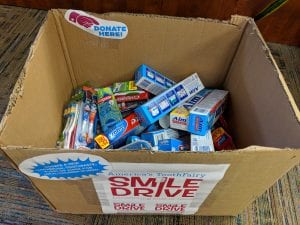 KYMN is, once again, partnering with Rice County for their Early Childhood Dental Network's annual dental supply Smile Drive.  The event raises awareness about children's dental health and collects dental care supplies for children in need. Ellen Haefner is a volunteer and employee with the Nfld school district, she said dental tooth decay is, "the number one chronic illness in young children birth to five and it can be prevented with the proper tools and education".  The Dental Academy now recommends taking your child to the dentist at age one or when their first tooth comes in.  It had been at the age of 3 but kids were frightened by the masks, the sound of drills and bright lights. Taking them earlier, they say, alleviates that issue.  Haefner said even it's just a "chair ride", to go along with an adult and get used to opening their mouth for a stranger with a mask!   Children in poverty are 50% more likely to suffer tooth decay and 50% more likely to not get treatment.  Starting today through March 8th, we're collecting donations of new toothpaste, brushes, floss and dental rinses to be brought to the studio.  She added that, "last year you guys killed it"!  (Thanks Listeners!!) The items collected will be given to our local food shelf and the Greenvale Park elementary school.  Stop by our studios at 200 Division Street between 8am and 5pm with your donations. Listen to Haefner's full interview with her contact information.  If you need help, you can call her too.
Kenyon's 40th Carriage and Cutter day celebration may be their last
This is the 40th year of Kenyon's Carriage and Cutter parade and it might be the last.  The event was started in 1979 by the late Don Knopf. Owners of the Lazy K Ranch, Bryan and Mary Hagen took over running the show for a couple of decades.  It's now run by the Kenyon Parks and Recreation Department, along with local businesses. According to the Kenyon Leader, City Administrator Mark Vahlsing said there are a few key volunteers who bring it all together but some are indicating this year will be their last. If no one steps up, it could be the end of the tradition.  The event is scheduled for Saturday with a parade of horse-drawn carriages at 1:30pm. But events will be happening from 8am to 3pm starting with a waffle breakfast. We have a list of the events on our Upcoming Events Calendar on kymnradio.net.