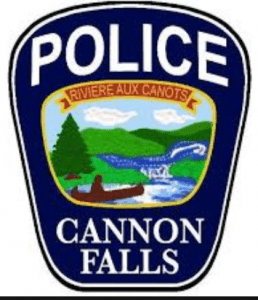 Urban Flooding – Chief Jeff McCormick
UPDATED RELEASE:
As of 1:00 pm on March 14, 2019 the City of Cannon Falls has been experiencing overland
(urban) flooding within a few areas of the city mostly along hillside areas. This urban flooding is the result of frozen ground and the air temperature remaining above freezing for more than 24 hours combined with rainfall. The greatest problem has been pooling water caused by either frozen culverts or areas without storm drain. Yards are also being impacted by snowpack that is containing the water instead of allowing it to drain to the street. The greatest areas of concern are walkout basements or ground level window wells that could be impacted by pooling water. The best solution is to create a path through the snowpack to reach the street. The storm drains are functioning correctly and draining water that is reaching them.
In the last 12 hours the Little Cannon River and the Cannon River have risen approximately 39 inches. The current levels have not impacted green areas or private property yet, but water has reached the trail under the Highway 20 Bridge and that trail will be closed to use until the river recedes. The rivers will be monitored to determine if any additional actions need to be taken.
State and County Highway Departments are dealing with water crossing roadways. Drivers need to be cautious if encountering roads covered by water. Do not drive through closed roads due to flooding.
The river levels and urban flooding conditions are being monitored continually and residents will be advised if conditions change.
End of update.