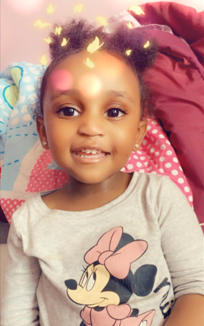 UPDATE:
Blooming Prairie, MN (KROC AM News) –  A Milwaukee TV station is reporting a missing 2-year-old girl has been found dead in Minnesota.
At the same time, the Steele County Sheriff is reporting a body has been found near Blooming Prairie.
The body was found Friday. Steele County Sheriff Lon Thiele says the body was "located in a ditch on Highway 218." His news release says the state BCA is assisting in the investigation and "Further information will follow pending positive identification."
Original alert:    The Milwaukee Police Department is asking for the public's assistance in locating Noelani Robinson, 2, of Milwaukee. Noelani was abducted by her father on the afternoon of 3/11/2019. Her father has since been taken into custody but efforts to locate Noelani have been been unsuccessful. Investigators have reason to believe she may be in Minnesota with someone who is safeguarding her. There is no indication that Noelani is in physical danger but authorities need to find her to ensure that she is safe.. Milwaukee PD is asking hotels, casinos, housing managers, restaurants and retailers to keep an eye out for her and call authorities if you see her or think you have seen her since March 11. Anyone with information is asked to call the Milwaukee PD at 414-935-7302, 414-935-7360 or dial 911.