By Teri Knight, News Director
Demarcus Barker will finally serve his sentence for a 1st degree drug sale conviction. Having been convicted in 2017 of incidents in 2016, he continued to appeal. One court agreed to his appeal of the length of his sentence. Rice County Attorney John Fossum appealed that ruling and the sentencing was held up in court on July 19, 2019. Fossum said that Barker, 40, was resentenced to 316 months or 26 and 1/3 years in prison. He was investigated by the Cannon River Drug and Violent Offender Task Force in 2016 for traveling to Chicago to bring drugs back to Rice County. He attempted to flee officers, tossing out drugs along the way and then crashing his car which had bundles of powder cocaine, crack cocaine, and methamphetamine. In 2017, Barker was tried and convicted of all nine counts in the complaint including Importing Controlled Substances Across State Borders, two counts of 1st Degree
Violation of Controlled Substance Laws, four counts of 2nd Degree Violation of Controlled Substance Laws, one count of Fifth Degree Violation of Controlled Substance Laws, and Fleeing Police in a Motor Vehicle. Fossum said, "In Barker's 20-year criminal career he has committed more than a dozen felonies and has always re-offended shortly after being released from prison. The only reasonable response from the court was a lengthy prison sentence." He won't be eligible for parole until 2033. 
Faribault man pleads to selling "magic mushrooms"
A Faribault man pled guilty Wednesday to 1st degree drug sale of a hallucinogen. In June of last year, Cannon River Drug Task Force agents investigated 22-year-old Mark Joseph Johnson and his supplier, a juvenile. Agents conducted two controlled buys of psilocybin mushrooms totalling nearly 55 grams. Johnson was convicted of 3rd degree drug sale in January of 2017. His sentencing on this latest conviction is set for August 16, 2019. 
Roundabout options for Highway 246 and Jefferson Parkway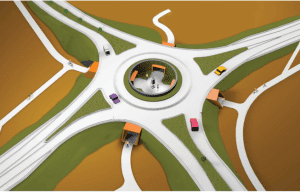 At peak times, the intersection at Highway 246 and Jefferson Parkway gets seriously backed up. Along with that, City Administrator Ben Martig said that with three schools, FiftyNorth (the senior center) and an active neighborhood, it's not safe for pedestrians and bicyclists. City staff and the Northfield council looked at numerous options and settled on a roundabout. This week, they discussed design options, all of which include new sidewalks and work along the stormwater pond area. One design option is with two underpasses connecting the schools and hooking up with the proposed Mill Towns Trail crossing 246 and Jefferson Parkway. There would be at-grade crossings. Two options include underpasses in all four directions. One is unique in that it brings all the underpasses into the middle; you then decide which way to go. It's open air in the middle, which may be hard to visualize, but there would be a wall on top to keep people from going over the top and down into the lower part, said Martig. This design is from the Netherlands, as there aren't any yet installed in the Midwest. There will also be public meetings regarding design. The roundabout itself will, almost entirely, be paid for by the State. There's potential for matching dollars for the underpasses at $1.5 million. That's about half of what it will cost taxpayers. Council also discussed finding a crossing solution to the area of Division Street near the high school. CC roundabout presentation 7-16-19
'Northfield Shares a Dinner' celebrates community
If you want to be a part of the 'Northfield Shares a Dinner' event, you might consider signing up soon! Jennifer Sawyer and Nancy Carlson are two of the organizers of the community dinner, something that has happened in other communities. They met with Jill Metz and shared their idea with a larger group in September to see if it was something to pursue. The plan is for 1,000 neighbors to share a sit down dinner on Division Street. Truly, a seat at the table for all, as the dinner is free. Sign up on northfieldshares.org to reserve your spot and/or volunteer. There will be art and music events prior to the meal. The menu is being created by Fairfield Inn's head chef Craig Corvello and will include all localized sourced food. Carlson said this dinner is meant to celebrate our community and all that each of us have to offer. She added that they have an outreach team to include everyone in our community. The event takes place Sunday, August 25, 2019, from 4 p.m. to 7 p.m.