By Teri Knight, News Director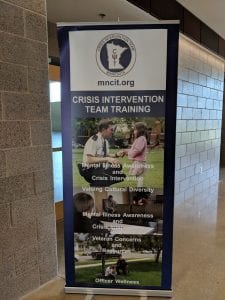 With a mix of mental health problems, drugs and family dynamics, first responders are getting more and more calls for people who are trying to harm themselves or others. Rice County law enforcement agencies just recently received training on crisis intervention through Minnesota CIT (Crisis Intervention Training). The group at Minnesota CIT brings in role players. Sheriff Troy Dunn commented, "The job that they do is phenomenal. I know [Police] Chief Monte Nelson went to the last one and he said after one of his scenarios he was mentally exhausted, it felt that real." He said from seasoned officers to newly hired, the training is beneficial for everyone. The idea is to give officers the tools they need to end the event peacefully. Dunn said, "Unfortunately we've seen in the media that they don't all end peacefully and there's a lot of finger pointing and blame placed on law enforcement, why didn't you do this different. The bottom line is we have to make sure people are safe, that no other people get injured." He added that often those in crisis are focused on one thing; part of the training is learning how to redirect that focus.
He said he wished they had this training thirty years ago when he was a rookie, adding, "Because a lot of times you just sit there and it's like, I don't know how to help you, you know, come on let's just come off that ledge and let's just talk to me now. And you just try to make conversation." Minnesota CIT is a private company that offers this training to various groups including medical professionals, EMS, hospital staff, college security. According to their website, the instructors are former law enforcement professionals. The scenarios are real-life examples. The training is an intense 40 hours in one week.
Arcadia's Innovation Day goes outside the box
On Tuesday, Arcadia Charter School had its first Innovation Day of the school year. Senior Logan Wells reports that the program, started last year, is an opportunity for students, four times a year, to go outside the bounds of normal classrooms and learn skills that regular classes would never teach. This week the day was all about problem solving. Students were split into groups with a mix of 6th through 12th graders. They were given several puzzles to solve and the opportunity to create solutions to problems regarding Arcadia, such as Is the project process the best it can be? Is the class schedule right? Should classes be longer? In the afternoon, speakers from around the community shared how they deal with problems in their professional careers. The speakers included marketing expert Rachel Matney, scientist Keith Barnes, engineer Dwayne Vosejpka, author Kaethe Schwehn and artist Mac Gimse. Wells said the training was well received by students. Arcadia's next Innovation Day is in December. 
Area men winners of DNR Pheasant and Turkey stamp contests
Two area locals have won Minnesota DNR's Pheasant and Turkey stamp contests, Mark Kness of Albert Lea and Stephen Hamrick of Lakeville. This was the first time Mark Kness has won. His painting, selected by judges from among 11 submissions, will be featured on the 2020 pheasant habitat stamp. Hamrick's painting was selected by judges from among nine submissions, and will be featured on the 2021 turkey habitat stamp. The full press release along with pictures of the stamps is HERE.  Be sure to check out our Community News page with lots of additional information on a variety of topics of local interest.