By Teri Knight, News Director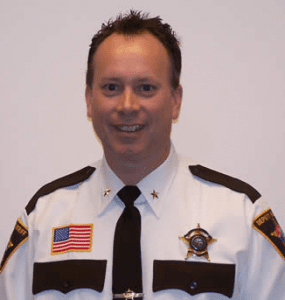 The Rice County Sheriff's Office sent out a Request For Proposals for a facilities and jail study after the Dept. of Corrections deemed the current jail insufficient for medium to higher security prisoners. Sheriff Troy Dunn said the DOC said they need more recreational and educational space. They also lack enough beds to keep their current population. That means transporting about 10 to 15 inmates out of the county. The current jail was built in the early 1970s. Dunn said the infrastructure of the jail, such as the pipes and mortar, just can't keep getting repaired. He said, "It's an important public safety thing that we need and we need to provide a good, safe facility for not only the people that are in there but for our staff as well." He added, "We've got the old style jail with the bars. The newer facilities you make it all solid with windows where you can see in
and out but you don't have the safety hazard, in that if a person wants to self harm to themselves like hanging themselves, there's tie off points." The RFPs are due by December 2, 2019. The study will provide information on what they really need. Should it be a new jail, Dunn said it would likely be an 18-month to 2-year project. 
Farmers still harvesting – use caution
Farmers are still out there trying to harvest. Last Wednesday, there was a serious crash on County Blvd 9 east of 14 on a curve in Goodhue County. A woman struck a grain truck. She was airlifted from the scene in reportedly stable condition. A source reported that the newer car "crumpled" where it was supposed to, protecting the driver. Extrication took longer due to the integrity of the vehicle. There's no further word on the condition of the woman. Use caution at all hours as farmers work to harvest as much as they can. 
NPD study, roundabout on 246 on Northfield Council work session
The Northfield City Council will hear from The Novak Consulting Group with their staffing and operational assessment of the Northfield Police Department. Very briefly, Julia Novak, in her draft presentation said, "There are several areas where staffing increases are warranted, specifically, one patrol officer, one sergeant, and one CSO (community service officer]." Council has already indicated approval for a sergeant's position for 2020. Tonight they'll also discuss the final design of the roundabout at Jefferson Parkway and Highway 246 and financial support for Age Friendly Northfield's request for an outreach coordinator. City Administrator Ben Martig will be in studio tomorrow morning at 7:20 a.m. with a recap of the work session. 
T'is the Season to Ring the Bell – sign up now!
It's that time of year. Sign up to be a Salvation Army bell ringer. Rice County Co-Chair Gina Little said they have two-hour slots to fill in three cities. Eighty-eight percent of each dollar raised stays in Rice County and assists in emergency situations such as gas vouchers, food, prescription medications, shelter, etc. The funds also provide programs for youth such as Shop with a Cop and Summer Camp. They also have a senior visiting program. Sign up with your church group, a work group, a group of friends or family. This link takes you to the Sign-Up Genius where you can select Faribault, Northfield or Lonsdale and the time and dates open. You can also call 507-649-9134. Bell ringing starts November 22, 2019. Sign up now to get the time YOU want!