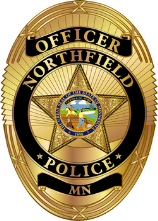 Effective Tuesday, March 17 through Friday March 27, the Northfield Police Department will be closing the front lobby to visitors, following CDC guidelines related to COVID-19. The entrance vestibule with telephone access to dispatch will remain open.
Services available
o    As always, in case of an emergency, dial 911.
o    If you need to speak with an officer regarding a non-emergency, please pick up the black phone on the wall or call the dispatch line at 507-645-4477.
o    Animal impound fees can still be paid here.  Please pick up the phone on the wall or call the non-emergency dispatch line at 507-645-4475 and ask to speak with the community services officer.
o    Evidence pick-up can be done by appointment only. Please call 507-645-4477, and as to speak with our evidence technician.
Services not available
o    Applications for MN Permit to Purchase Firearm will not be accepted during this time.
o    Peddler permits will not be accepted during this time.
o    Payments for parking tickets should be mailed.
o    Requests for copies of reports will not be accepted in person. The form can be found online on the City website (https://www.ci.northfield.mn.us/DocumentCenter/View/5779/Data-Request-Form-?bidId=). Please fill out the form and mail it to the Police Department.  Our Records staff will contact you once the form is received.
o    Fingerprint services are no longer available at Northfield Police Department. Please contact Rice County Sheriff's Office at 507-332-6010 for their availability.