Whitemore Fire Consultants were retained by the League of MN Cities to investigate the fire in the Northfield WWTP biosolids building in May, the 2nd incident of three, at the plant in the last 6 months, and the most expensive at over $5 million.  Public Works Director, Dave Bennett, told Council that the built-up sludge from the pre-treatment building is sent to the biosolids building where the liquid is further squeezed out of it and it's blended and stabilized using quicklime
and goes through a pasteurization vessel, that heats it, where the fire originated.  The process was shut down at 3:45pm. It's a 1 to 3 hour process to shut down the pasteurization vessel, (cooling it off). About 9:26pm, he said, there was a phone line failure, "in our SCADA system in our building so that continued.  It just kept failing and failing ….(unable to decipher) all communication failures, really believe these are alarms are the fire is going on, we're having melting going on and the lines are starting to build".  Before midnight, the fire department gave the all-clear.  The State Fire Marshall did not look into the fire. Bennett said the Insurance investigator ruled out electrical or mechanical problems but, he said, "and really the only thing they couldn't rule out is that the product somehow caught the fire and started the fire at the end of that pasteurization vessel".  Martig said yesterday morning, without saying for sure that's what it is, that's the most logical.  Bennett added there was no negligence. However, citizen Don McGee, an engineer for 50 years and founder and owner of a process heating equipment company, saw the report and said, "the Whitmore report I find very lacking.  Now if the League of MN Cities is happy with it, fine, they can send a check, but it does not address a lot of the issues that I would think somebody doing a fault analysis would do".   He added, "I have problems with that.  While the mechanical is fine, so that's fine, the electrical's fine, so that's fine, so it must be the quicklime.  I checked quicklime and I couldn't find any instance in literature of it getting any hotter than creating steam, so how that started the fire (pause) I'm not convinced.  I would be convinced if something went wrong if the controls didn't do what they were programmed to do or there was an interface problem where confusion where it should've been a manual control or manual should've taken over for the machine or the machine should've taken over for manual".   An independent operational audit is on Council's radar including policies. They will also be looking into actual fire alarms.  The city is currently contracting to haul the sludge out, but, due to the volume, they've ordered temporary mobile process equipment to use until all repairs are completed, which could be 8-12 months.  Bennett says replacement costs are almost $4.5 million which he expects the insurance company to pay.  
Line cut shuts down City communications for a time
Jaguar Communications customers are back online.  A representative confirmed the fiber line that was cut accidentally during the County Road 1 construction project yesterday was restored by 11 o'clock last night. It temporarily shut down all city communications except emergency dispatch which comes from elsewhere.
Lighten Up garage sale raises $36,000 for non-profits
Proceeds from Carleton College's 18th annual "Lighten Up!" Garage Sale raised $36,000 for area non-profits. Yesterday, Carleton presented checks in the amount of $12,000 each to representatives of The Northfield Union of Youth, Project Friendship, and Northfield Area Special Olympics. The event was held June 22nd & 23rd, for the first time, in Laird Stadium. Volunteers dedicated over 400 hours of time to prepare for the sale.  Carleton staff and community volunteers transformed the area into a showroom full of goods donated by students at the end of the academic year, sorting through the 46,000 pounds of materials collected (not including furniture or bicycles). Unopened food items were donated directly to Northfield's Community Action Center food shelf. Carleton's _Lighten Up_ Garage Sale raises $36,000.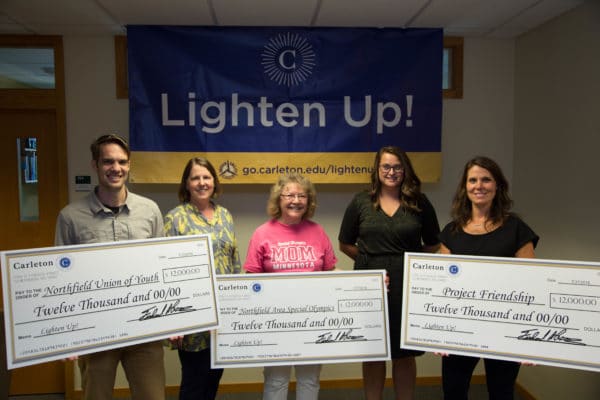 Scott Wopata, Northfield Union of Youth Executive Director; Erica Zweifel, Carleton College CCCE Program Coordinator; Connie Nuebel, Northfield Area Special Olympics; Alex Miller, Carleton College Sustainability Program Coord