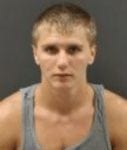 A Northfield man is charged with a felony after officers found hallucinogenic mushrooms in his vehicle.  On Tuesday, a Dundas officer was on patrol when he ran the plate of a moving vehicle. Turns out the owner's license was revoked.  According to the criminal complaint, 18 year old William Ryan Daniel Sullivan IV, had an array of drug paraphernalia and residue from marijuana, methamphetamine, DMT, a hallucinogen and a ¼ gram of Psilocybin mushrooms.  Sullivan is charged with
5th degree drug possession a felony carrying up to 5 years in prison.  His initial court appearance is August 8th.  Sullivan complaint
City says, "Yes", Division St. will be 2-way traffic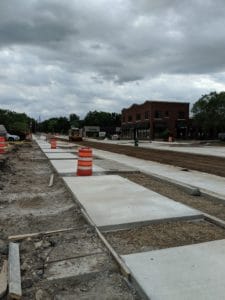 The utility work is done but are you sure that road is for 2-way traffic?  A question ringing through downtown Northfield as road work took over Division street between 6th and 8th streets with the 7th Street intersection appearing squeezed with all that cement for the bumpouts.  Public Works Director Dave Bennett said, yes, it will be 2-way.  It was designed to "feel" tighter to vehicles so they slow down, the bumpouts also narrow the space that pedestrians walk to cross the intersections.  That work should be complete in a couple of weeks, they'll then move to 7th street reconstruction between Water and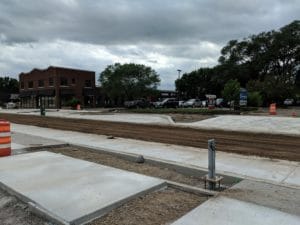 Washington.  Starting in September they'll be doing a mill and overlay on Washington which will also include bumpouts, narrowing the road.  Bennett added that a mill and overlay will take place in the municipal parking lot at Washington and 5th St, complete reclamations will be done in the City Hall lot and the lot next to the Grand Event Center as well as at 3rd street. Another change will be moving the Washington and 4th street all way stop to 5th.  Traffic on Fourth street will have to yield to traffic on Washington. Work should be complete later in the Fall.
Fire facility construction chugging along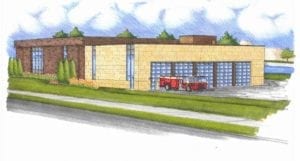 Construction is a week behind on the Northfield Fire Facility due to rains.  Architect Dave Medin told the NAFRS Board that contaminated fill was found in the pond/construction area adding that fill containing debris smaller than 3" can be used under parking lots, and sidewalks, so long as no fill is exposed to open air. If they find further contamination of chemicals, it may need to be hauled out. Chief Gerry Franek said the footings of the new addition are complete.  The underground pipe work is finished, the electrical and plumping is stubbed in and they're back filling where necessary.  The pouring of the concrete floor is expected in about 2 ½ weeks.   
Adult beverages ok'd for Cinema
Soon you'll be able to have an adult beverage as you watch a movie on the big screen in Dundas.  This week the Dundas Council approved a wine and beer license for the new movie theater in the old K-Mart building.  Administrator McCarthy said Council also approved Dawn's Corner Bar's Detour Day celebration Sunday, Sept. 2nd.  Festivities will begin earlier this year at 10am when they close Mill street for games.