We talk about how wacky weather (Alan's term, Bruce calls them "low probability weather events") is impacting an important part of out local economy – farming.
Here are some of the graphs we were looking at as we put together this show. Note the absence of alarmist sites – just the facts, that's all we wanted, just the facts.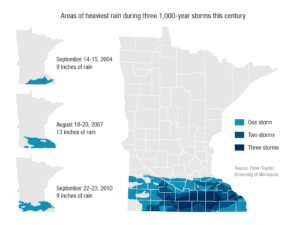 1000-year events ought to be about 1,000 years apart – unless something has changed (hint: something HAS changed).
Land use will be changing as the climate changes.
Here are the weather targets … as if we can order up weather to suit the crops.
Here are the numbers of growing degree days you get, this is shifting too.
And here are growing degree days that corn experiences over a season. Note (from the Survival!! chart) that a day that is too hot does not contribute well to the needs of the crops.
References:
1st story – "wacky weather" and intro to Ag (NPR)
depends on a reliable water cycle – we farm MN because it has

good soil built up over the 10-20,000 years since the end of the last ice age (Univ of MN)
reliable rainfall – not too wet (though we have to tile away some of the surface water)
a suitable growing season – too short for year-round (some exceptions), long enough for hybrid crops (Purdue)

The KYMN Climate Show with Bruce and Alan:
The KYMN Climate Show with Bruce Morlan and Alan Anderson is a once-monthly show that explores the climate issues in the news and then digs into the stories to clarify what the supporting science tells us about our changing climate and how we will have to respond to those changes. With diverse backgrounds, their pursuit is knowledge and reason about our changing climate. KYMN Climate Show will air the first Wednesday of the month at 11am.