Prairies Edge Humane Society is fighting back.  At the Rice County Commissioners meeting this week, it was suggested that they be defunded.  As budgets are being set, County Administrator Sara Folsted recommended to the Board that they fund
the same amount of dollars to the same various agencies for 2019 as they did for this year.  The Rice County Soil and Water Conservation District was among those agencies requesting additional dollars but Folsted was in favor of holding as is. Commissioners Dokken and Bauer thought they should deny the annual $5,000 they give to Prairies Edge, and give it to the SWCD.  That did not sit well with Commissioner Malecha, who represents Northfield and has had a long relationship of support for PEHS. No action was taken at the meeting but they will be voting approval of allocations on December 11th as they set the 2019 budget. In the meantime, there's an outcry on social media and letters to the Commissioners including from long-time volunteer Sandy Vesledahl, who wrote an email stating…. As a taxpayer and registered voter in Rice County it is absolutely offending to me to read that Commissioner Bauer believes the services provided by PEHS are "not essential".  The shelter takes in 450-500 animals (both dogs and cats) each year, animals that, without the shelter, would likely be picked up by law enforcement.  That cost has not been calculated, including where to put them. She asks what he expects to do with those animals. Executive Director, Kathy Jasnoch, will be in studio next week to talk further about the possible defunding of Prairies Edge Humane Society.  In the meantime, you can contact any of the Commissioners through the Rice County website.
Nfld District spends 82% of funds on students
The annual audit report for the Northfield School District was clean once again with no compliance issues.  Superintendent Dr. Matt Hillmann said the Finance Dept. has set up some "top notch procedures".  Finance Director, Val Mertesdorf, gave an update to the School Board, Hillmann shared some highlights including the fact that 82% of their dollars goes directly to education instruction.  Schools are ranked in their spending and the Northfield District is in the top 15 or 20 out of 332 districts in spending in the classroom or pupil support.  They're in the bottom 20 in spending on administration.  Hillmann added that they could not do that without the community's support.  
Snow brings shoveling brings "heart attack season"
We had a little snowfall.  It's the season of shoveling and EMS Director Brian Edwards says they always see heart attack calls.  He added that if you have chest pains or shortness of breath, stop what you're doing and call 911.  He said, "we'll take care of you".  He added that winter driving can be tricky. You need to always use caution approaching intersections but Edwards added that there's a stretch of I-35 between Mile Marker 67 and just north of Hwy 19 is "notorious" for accidents.  It's a windswept area that, even with just a small amount of snow, it can get that glaze on it, so use caution. There were a multitude of accidents and vehicles in the ditch last night.  Time to remember how to drive on snow.
Be a bell ringer!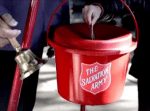 The Rice County Salvation Army is still seeking bell ringers in Northfield, Faribault and Lonsdale.  Spread the joy and sign up with family, friends, church groups or organizations. 88% of all donations stay in Rice County and help support emergency assistance, Shop with a Cop and more.  Call Rice  County Coordinator Gina Little at 507-334-0639