By Teri Knight, News Director
The man who allegedly drove into a Starbucks in Eagan was charged in Dakota County yesterday. 44-year-old Ihar Daniliuk (pronounced E-har Danna-lick) of Eagan was charged with one count each of Criminal Vehicular Operation Resulting in Great Bodily Harm and Criminal Vehicular Operation Resulting in Substantial Bodily Harm. On the evening of Monday, August 19, 2019, Eagan police responded to a report of a vehicle that had been driven into a Starbucks, seriously injuring two people. On arrival, officers found a vehicle with its front-end inside the building. Daniliuk, the driver, smelled of alcohol and blew a 0.18, just over twice the legal limit. He told officers he accidentally hit the gas instead of the brake. When he hit the curb, he said it caused his foot to push harder on the gas pedal. A man and woman, found on the floor inside, sustained substantial injuries. The female had multiple lacerations to her face that required stitches, glass was found in her leg, and a broken fibula in her right leg. The male has a broken leg, three broken ribs, a fractured spine, internal
bleeding, and a dislocated hip. Bail has been set at $150,000 without conditions ($25,000 with conditions). Daniliuk's next court appearance is September 18, 2019, in Dakota County.  
Northfield woman injured in H&R
A Northfield woman was injured in a hit and run accident on Tuesday in Greenvale Township. According to the State Patrol, around 6 a.m. a Ford Pickup was eastbound on Highway 19 near Baldwin Avenue when it lost control, spun 180 degrees and slid over to westbound shoulder. A Chevy Impala, driven by 26-year-old Desiree Mcgeough, applied brakes hard enough to skid and struck the pickup from behind. The driver of the pickup then fled the scene. Mcgeough suffered non-life threatening injuries. A Rice County sheriff's deputy, an off duty Northfield fire fighter and Northfield ambulance also responded. The crash remains under investigation. 
Greenvale Township will hold public hearing August 26 on building permits
A large number of people opposing Greenvale Township's recent moratorium on building single family homes showed up at the Board of Supervisors meeting Tuesday evening. In May, Ken Malecha of TK Properties, along with his partner Tracy Snyder, brought a lawsuit against the township after being denied a building permit. In June, on advice from their attorney, the township imposed the moratorium. Board Chair Greg Langer said that this would allow them time to consider amendments to the zoning and subdivision ordinance concerning building eligibility, which had been approved by supervisors in 2017. Greenvale's planning commission will hold a public hearing at 6 p.m. on August 26, 2019, regarding those amendments. Langer said copies of the proposed amendments will be available to the public at the Greenvale Town Hall prior to and during the hearing. The Board of Supervisors will hold a special meeting immediately afterward to consider adoption of the amendments and rescinding the moratorium. 
A number of residents attend 246/Jefferson Parkway open house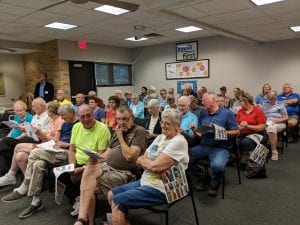 Last night about 60 people showed up for the City of Northfield's open house regarding the Highway 246 and Jefferson Parkway roundabout project. City Engineer Dave Bennett along with SEH Design representatives gave a presentation regarding the four alternatives to moving pedestrians and bicyclists through the proposed new roundabout. Stay tuned for a look at the alternatives and more tomorrow.