By Teri Knight, News Director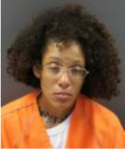 Formal charges have been filed against the woman who had a loaded handgun in her vehicle. Northfield police arrested 28-year-old Brianna Gabrielle Armstrong after a traffic stop revealed she had a warrant out from Carver County involving a drug charge. According to the criminal complaint, Armstrong had a small amount of marijuana and 82 ecstasy pills in the car as well as a loaded handgun tucked inside a boot. The gun was a .38 special with four live rounds and the hammer was cocked, making it ready to fire. The serial number of the gun had been filed off. The weapon was within reach of the driver's seat. Armstrong
has been charged with two felonies including possession of a firearm by someone with a Conviction for Crime of Violence and 4th degree drug possession, along with driving after revocation. The firearm charge carries five to 15 years in prison. Bail has been set at $50,000 with conditions. Her initial court appearance is October 9, 2019. Deputy Chief Mark Elliott said they continue to investigate where the gun came from.
Negligence lawsuit filed against City of Northfield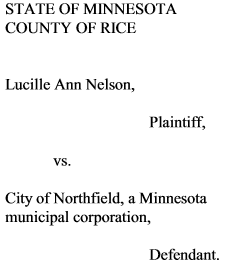 A woman filed a lawsuit against the City of Northfield in August charging that the City was at fault for her tripping and falling on a sidewalk in October of 2018. Lucille Ann Nelson sustained serious and disabling injuries requiring surgeries and a stay at the Northfield Retirement Home to rehabilitate, according to court documents. Nelson fell when she hit a defect in the sidewalk on the east side of Nevada Street between 6th and 5th Streets. She claims Northfield was negligent with respect to its installation, maintenance, inspection, repair and supervision of the sidewalk. Nelson is asking for $50,000. The City has responded claiming no fault and that it was Nelson's own negligence that led to her injuries. A motion for summary judgement was moved from November 1 to December 2 in Rice County Civil Court. 
State of the Nfld School District Chamber Luncheon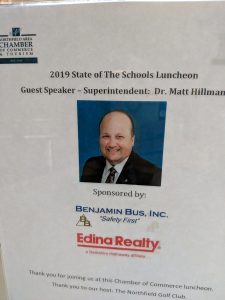 The Northfield Chamber of Commerce held a State of the School District Luncheon yesterday. Superintendent Dr. Matt Hillmann was the guest speaker. The overarching theme was that they're in good shape. With dollars from the referendum, the new school construction at Greenvale Park Elementary has started and you can watch online as it progresses. The new flexible lunch schedule has been a success with music, art, and help with every homework assignment. It's also a chance for the students "to take a breath." They have created a "later school start time" committee. Hillmann is charged with building a technical plan to consider students at the secondary level to start classes up to an hour later. He said the sleep science is done; it's biological research that says when we reach puberty our internal clocks change for a period of six to eight years. The school board will be looking deeper at it next spring. Social/emotional learning is something all the teachers have agreed should continue. Hillmann added that they've secured mental health grants so that some of the students can get those services in their school building. He said, "This is a crisis, people, the amount of mental health issues that we are seeing in small children will blow your mind." The achievement gap is something they continue to work on. His speech is below. Caveat, it wasn't started right away and clipped off at the end:
Dr. Hillmann on State of the School District 2019