By Teri Knight, News Director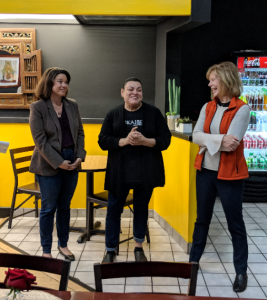 Maria Estrada loves to feed people. She is the owner/operator of Maria's Catering, Maria's Taco Hut and Kahlo. Opening Kahlo was her second venture into opening a restaurant in Northfield. Having learned from that first experience, when the opportunity to open at a location on Division Street presented itself, she took it. This week Senator Tina Smith and Representative Angie Craig made a stop at the popular restaurant on their tour of local businesses. Smith asked Estrada about opening Kahlo and she said, first she learned what NOT to do. She realized she couldn't do everything and so she has surrounded herself with people who can do the things she would rather not, like manage the kitchen. Craig, who serves on the House Committee on Small Business, noted that many small businesses have sought help from the SBA. Estrada instead did it with
the help of her family, the community and her work ethic. She recently played a large role in the Northfield Shares a Dinner and was likely the most quoted about the event. Paraphrasing, she said instead of building a wall we should build a longer table.
Smith and Craig also toured Reunion and spoke with Rebound's Brett Reese. Those pictures are below:
Call for the facts first
As Democrats call for impeachment, Senator Tina Smith made just one comment while here touring businesses. She said, "It's really a somber moment for our country as we proceed down this path. And the Senate and my role is to be jury and so it's extremely important that I keep an open mind in that I have an opportunity to look at all the facts and all the information should it come to the Senate." She added, "But let me just say, you'll notice here today in Northfield, we're talking about the business of the community and what we can do to make communities like Northfield work, how we can be good partners and it's important that people understand that we can do both of these things." Craig called the President's own admission regarding the call to the Ukraine "disturbing," adding, "…and so we need a process get into the facts and at the end of the day, you know, I'm willing to continue to work with this administration and this president on all the priorities of this district." Those priorities would be healthcare, infrastructure and family farming. 
Drizzle won't dampen NAFRS Open House
Fifth Street from Highway 3 to Water Street will be closed today from 4:30 p.m. this afternoon till 9 p.m. tonight for the Northfield Area Fire and Rescue Services (NAFRS) Fire Prevention Open House. The weather looks like light rain but the temperature will be around 60 degrees. There may be some adjustments regarding activities but the Open House is ON. 
Lane closures due to bridge inspection in Zumbrota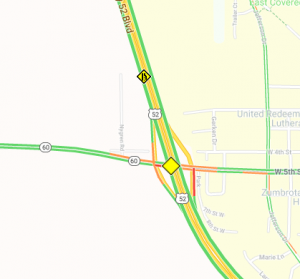 The eastbound lane of Hwy 60 over Highway 52 at Zumbrota is closed for bridge inspection. According to MnDOT, three beams of the Highway 60 bridge appear to have been damaged from machinery being carried by a truck in the right lane of northbound Highway 52. Additionally the right lane of 52 southbound is closed between 440th Street and MN 58 for the same bridge inspection work. At this point, 511mn.org is reporting closed until further notice.