By Teri Knight, News Director
UPDATE with comment from DNR Commissioner Sarah Strommen.
A Lakeville-based railway wants to drill two wells in Dakota County that would annually produce 500 million gallons of water to be shipped by rail to the drought-stricken southwest, areas like Colorado, Arizona and Utah. According to the Star Tribune, Empire Building Investments, the real estate arm of Progressive Rail, filed a preliminary application with the DNR last month. They want to drill two wells on six acres in Randolph within a mile of Lake Byllesby in the Cannon River Watershed. This is the first of its kind request. According to the article, there will be challenges to the proposal from a variety of
agencies involved including Dakota County, the Minnesota DNR and the Metropolitan Council, who is projecting a "significant depletion under some of the major cities" including Lakeville and Farmington by 2040. Two County Commissioners, Mike Slavik and Joe Atkins, said this raises serious concerns. Slavik was quoted as saying "there's going to be a point where our water will be more valuable than oil." A former DNR commissioner added that water should not be treated as a commodity. The full article is in today's Star Tribune newspaper. (You have to be a subscriber to see the article online). The Pioneer Press also has an article that you may be able to see online.  DNR Commissioner Sarah Strommen comments on this action:
For Immediate Release:

Nov. 1, 2019
Statement from Minnesota DNR Commissioner Sarah Strommen about proposed out-of-state water transfer
The DNR is aware of a proposal by Empire Builder Investments to supply groundwater from Minnesota to the western United States by railcar. The company has not yet submitted a water appropriation permit application, but has requested a preliminary well assessment. A preliminary well assessment, required under state law, is an early stage review designed to identify potential issues before a proposer invests in equipment or well drilling.
Under Minnesota law, the DNR regulates the use of both groundwater and surface water. The agency must manage public water resources for the benefit of the State of Minnesota, including future generations. We must ensure that water appropriations are reasonable, practical, and adequately protect public safety and promote the public welfare.
Based on our initial review of the Empire Builder request, we are notifying the company today that we see virtually no scenario where the DNR would grant a water appropriation permit for the project, as it does not appear it could meet applicable statutory requirements, including significant restrictions on use of the Mt. Simon aquifer.
###
Don't leave leaves in the street – compost your pumpkin too  
Leaves are clogging storm drains in Northfield. City Administrator Ben Martig said they have to go in and suck up the leaves with a large machine if there are blockages. If there's a heavy rainfall and there are lots of leaves in the street there could be localized flooding. It's a lot harder to clean the drains out in the winter, which can lead to spring flooding. He asks residents to not leave leaves in the street. The compost site is open every day but Monday, however the hours vary. The plan is for the site to be open through November 17. Check the City's website for hours. Tomorrow you can take your spent pumpkins to the maintenance facility at 1710 Riverview Drive from 8 a.m. to noon. City Program Coordinator Beth Kallestad said, "When food waste breaks down, it generates methane gas which is actually 28 times more powerful than carbon dioxide as a greenhouse gas, so we want to do what we can to reduce stuff that really doesn't need to be in the landfill." There's no cost for this. It's the first year the City is trying pumpkin recycling. DSI will take the pumpkins to a compost site in Shakopee. Kallestad's interview is on kymnradio.net.  
St. Dominic teams up with City on painted plow project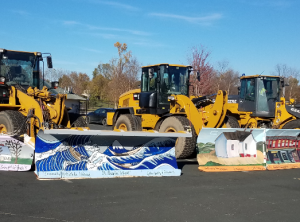 For the 8th year, St. Dominic School has collaborated with the City of Northfield to create a moving museum by painting snow plows. Kelly Lynn Stanton-Nutt said they created ten reproductions of famous artworks using exterior latex house paints and small brushes – none wider than an inch to paint them. The students research and recommend the artists and pieces and then each class votes. The selected work is then drawn freehand onto the primed blades with charcoal. Stanton-Nutt said this helps to maintain scale and proportion, and the charcoal doesn't come off in the rain. Students can paint on all of the different plows during their class time, though they tend to have favorites. Up to five or even six kids can be painting on a single blade, but often they pair up. Seventh grader Brent Harris told Stanton-Nutt that he found painting big like this outdoors was so relaxing! Others have said that it is their favorite activity, and they look forward to it each year. I will have pictures of the painted plows on our website at noon today with the story. They really are more dynamic and complex each year. They were on display at Memorial Park last weekend. St. Dominic hopes to continue this amazing community connection with the City for many years to come.
Bundles of Love provides for babies in need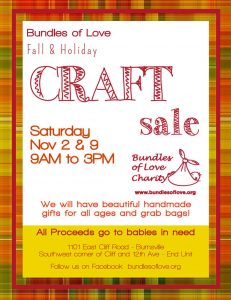 Bundles of Love is holding a craft fair. Founder and President Mary Jo Prinsen explains they're a charity dedicated to supplying newborn babies in need with all the basics. The Bundle of Love includes at least 26 handmade items such as blankets, quilts, newborn clothing such as sleepers, t-shirts, gowns, booties, hats and more. They also craft winter buntings and carseat covers. Prinsen said the charity stems from her hobby of making handmade gifts. In the twenty years since she started it, Bundles of Love has grown from three to 400 volunteers from across the state handcrafting items for babies in need each month. They work with about 120 hospitals, clinics and service agencies around the state to find where the need is. Bundles of Love is holding a craft fair in Burnsville this Saturday and next, November 2 and 9. For more information go to bundlesoflove.org. You'll also find Mary Jo's interview on our website under the Morning Show archives.