NORTHFIELD, MN (December 27, 2019) – 2020 BUSINESS OF THE YEAR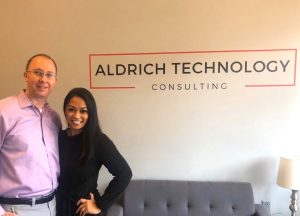 Aldrich Technology has been named as "2020 Business of the Year."  This award recognizes a business in the Northfield area that has Chamber and community involvement/contributions, along with expansion or business growth, renovation or redevelopment, new job creation, new employer and or facility, and has not been selected in the past ten years. "Aldrich Technology has grown tremendously in the past four years," said Chamber President, Lisa Peterson.  "The company started in 2015 in their home office and in 2017 moved into a space on Division Street. Today, they have more than doubled in size and continue to experience tremendous growth with plans to add more technicians soon.  They
are great assets to our community and very willing to help out at any of our many Chamber events."
"Aldrich Technology has become a mainstay to our downtown business community, and in a short span of only a few years, the company continues to grow and expand. Chad and Han are very active in not only our community but also in other areas, demonstrating the true spirit of volunteerism. Chad is a strong member and supporter of the Northfield Chamber and helps wherever and whenever called on," said Chamber Past Board Chair, Martha Kasper.
2020 BUSINESSPERSON OF THE YEAR – The Chamber also recognizes an individual as "Businessperson of the Year" for contributions/involvement to the Chamber, along with community/civic involvement and activities that improve the local business community.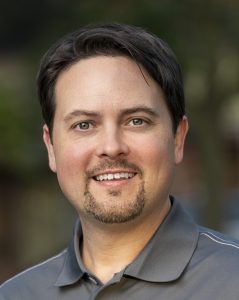 Tim Freeland of Edina Realty has been selected as "2020 Businessperson of the Year".  "In addition to being a successful area realtor; Tim is very active in the community through his various volunteer efforts.  He is instrumental in the Defeat of Jesse James Days committee, providing website updates, emceeing the Ambassador Coronation event as well as the many raid re-enactments throughout the weekend.  He coordinates and the Annual Horseshoe and Snowflake Ornament Hunts. He was nominated by three separate community members, which speaks volumes about his character," Peterson said.
Tim was named "Best Realtor" by SoMN Scene in 2017 and 2018.  He received the Edina Realty's President's Circle Award in 2018 and 2019.  Tim is a lifelong Northfield resident, graduating from Northfield High School in 1991.  He holds a Bachelor of Science in Psychology and Business Management from the U of MN. Tim is married to Lori and together they have two teenage daughters.  He is a lover of everything Northfield and collects Northfield memorabilia. His hobbies include close-up magic, photography and website design.  
2020 AMBASSADOR OF THE YEAR – Ambassadors are Chamber volunteers who actively promote the Chamber through attendance at events and specific activities.  Their goal is to improve the Chamber member relations and retention.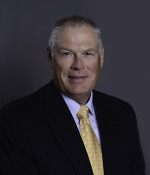 Marty Benson has been selected as the "2020 Ambassador of the Year."  Benson is Vice President of Commercial Banking and Commercial Banking Manager at Community Resource Bank in Northfield.  "Marty is a great asset to the Chamber," said Jane Bartho, Director of Membership & Events at the Chamber.  "He is a staple at nearly every single Chamber event we organize, welcoming new members at networking events, making introductions and supporting new businesses as a Chamber mentor.  Marty is a friendly face; someone we can count on and truly deserves this recognition for his service." 
The Chamber Annual Meeting & Business Recognition Banquet will be held on Thursday, January 30, 2020 at 5:00 p.m. at Armory Square.  The cost to attend is $40 per person. Reservations are required and can be made online at www.northfieldchamber.com or by stopping in the Northfield Chamber of Commerce & Tourism at 19 Bridge Square.