This week we talked with Dr Robert Jacobel, Professor of Physics Emeritus at St Olaf College and a geophysicist who has been working in the US Antarctic Program since 1987.
Spring (green) and summer (red) Arctic ice (1870-2011). Note the general trend toward less ice.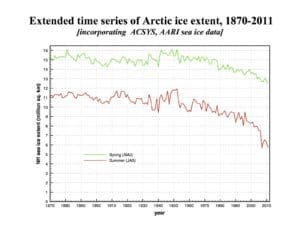 More continuous data – note seasonal up and down but trend down over time.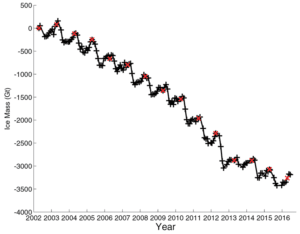 One example glacier. Landsat photo with overlay of the "calving front" of the glacier. This is a flowing ice field that grows out of the ice "cap" on Greenland. Note the receding ice line.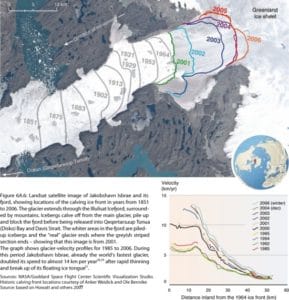 The KYMN Climate Show with Bruce and Alan:
The KYMN Climate Show with Bruce Morlan and Alan Anderson is a once-monthly show that explores the climate issues in the news and then digs into the stories to clarify what the supporting science tells us about our changing climate and how we will have to respond to those changes. With diverse backgrounds, their pursuit is knowledge and reason about our changing climate. KYMN Climate Show will air the first Wednesday of the month at 11am.