Will there be a new Northfield municipal liquor store?  That's not going to be answered any time soon. Store manager, Steve Delong told Council at their work session this week that they've seen about a 6% downturn in sales since MGM opened.  (Dakota County WorldWide had predicted a 20% reduction).  KYMN had stated that Delong predicted that.  We apologize for the error.  No further conversations with EconoFoods or owners of the Q-Block are planned. What there ARE conversations about is in the Human Resources Department regarding additional parental leave of 2 to 4 weeks for City employees. However, with revenue down and
costs going up, in particular the compensation study which raised the wages of all City employees, Administrator Martig said they'd have about a $400,000 deficit if there's no levy increase.  Other points are the approval of additional trails, the fire facility, a new pumper truck, Division Street enhancements as well as a fire and 2 floods at the WWTP. The Council pondered a few ways to increase revenue, including another levy. This year the percentage tossed out was 4.5%. Last year it was 8%. In previous years the Council voted for an average of 2%. Martig and Mayor Pownell were in studio this morning, that interview is on kymnradio.net.
Fairfield Inn holding off on reservations till January
KYMN has to make a correction!  The Marriott Fairfield Inn and Suites on Hwy 3 is not taking reservations for this year.  General Manager Ken Pankow stopped by our studios.  He said, "Marriott has very strict policies on when we can book and how we book and right now, since we're not open, we're still potentially a month and a half away from that happening, Marriott's not letting us book anything before January 13th, 2019″.  As Marriott gains confidence that they will be open by a certain date, they will decide when to open, not the local operations.  Adding the next benchmark is elevators, after that will be furniture and fixtures.  He added that there's light at the end of the tunnel and they're excited to open this year (but they can't take reservations).  During an interview last week on KYMN, Community Development Director Chris Heineman, was under the impression that they were able to take reservations in October, they are not.
"An unqualified success"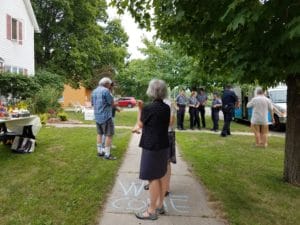 Chief Monte Nelson who had a late night with a lot of partying!  There were 45 registered parties for last night's Night to Unite.  Nelson called it, "an unqualified success".  Nelson wanted to add that the Police Department wants the community to call them if you have any suspicions.  He said, "because often they hear, oh I didn't want to bother you, and sometimes we have to encourage people, no that's why we're that's what our officers are paid for is to get bothered, and it's NOT a bother.  Sometimes people will think it's not a big deal and it could be a big deal, someone who's knocking on doors or it's looks like they might have gone into a house, they're not sure, we'd rather check and it turns out to be nothing".  He said connecting neighbors is the most important piece.  Their hope is that it will encourage neighbors to continue to visit.  Law enforcement, fire and city officials made the rounds.
Dakota Co. Fair celebrates Henry Fox
The Dakota County Fair boasts one of Minnesota's largest 4-H showing.  Fair Board member Mark Henry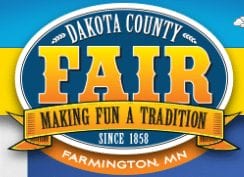 said that's a distinction they're very proud of.  He said, year in and year out, they're number one or pretty close.  4-H is a very big part of their Fair.  The Grandstand is filled with a variety of programming including 3 nights of demo derbies and, he said what's cool, is that a lot of local kids (ages 17 and 18) from areas like Randolph, Northfield and Farmington, are getting involved, building their own cars in their backyards.  For all the information on the fair, go to dakotacountyfair.org.  Henry also wanted to recognize a Board member that's been on board since 1947, Henry Fox.  They dedicated a building in his honor, the Henry and Katie Fox Show Arena. At 92 he is still involved with the Fair.  
Paws, Claws and Outlaws for PEHS
It's the inaugural "Paws, Claws and Outlaws Motorcycle/Car Rally" to benefit Prairies Edge Humane Society this Saturday. Starting out in Dundas at Dawn's Corner Bar, the group will travel through the countryside.  Registration begins at 9 o'clock. Organizer TJ Heinricy said it's $25 for motorcycles and $25 per car (no matter how many are in the car).  Then head out on the road at 10 o'clock making 3 other stops for games and greetings of available dogs. There will be a live auction at 3:30pm at Dawn's. Heinricy said they added the car aspect to bring more families in.  For more information or to register early go to prairiesedgehs.org.