With no one running against him, Jeffrey Flaten was re-elected for a 3rd time to Mayor of Dennison with 68 votes to 17 write-ins.  In 2014, citizens started being assessed $25 monthly to start setting aside money for sewer ponds and a lift station. By 2016, Flaten was working on the lift station himself and was cited for it.  That's when he was able to get, then Lt. Gov. Tina Smith, to come to Dennison and see the need. In June of 2017 he was able to secure $726,000 for a lift station and also improvements to their infrastructure worth $250,000.  They will break ground on the lift station at the end of this month.  Next Spring they'll be pursuing a phosphorus reduction system. Something they have to do, in order to get their Wastewater permit.  Dennison isn't the only municipality dealing with dated infrastructure, in fact, there are many throughout the State. Flaten said, with a town of about 190, it's a challenge to keep taxes low and also provide all the
services that people expect. They also now have a licensed operator to test the water, send in samples and perform those necessary duties instead of Flaten.  In other Dennison election news, Diane Ruddle and Ann Laue were elected as new Councilmembers.  
Local charities participate in Give to the Max Day
Today is the 10th anniversary of Give to the Max Day. There are numerous local charities you can donate too.  Including Prairies Edge Humane Society.  Director Kathy Jasnoch said from now to midnight tonight there will be $500 Golden Ticket drawings every 10 minutes, $1,000 every hour and just before midnight, they'll draw the Golden Ticket for $10,000.  Each time someone donates to a charity, that organization is entered to win a Golden Ticket.  You can go to Prairies Edge website at prairiesedgehs.org or giveMN.org or stop by and see PEHS at Imminent.  
Graphic artist featured in Art Show at Nfld Historical Society tonight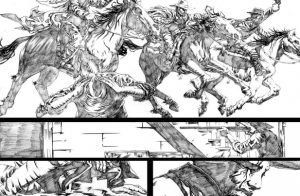 Tonight, the Northfield Historical Society is holding an Art Show featuring the original drawings by Nate Olson, illustrator of the graphic novel, Shot All To Hell, which has been extremely popular.  Executive Director Cathy Osterman said his work depicting the Raid in his pencil drawings and for people to view AND purchase!  Nate is giving the Historical Society 10% of every drawing sold.  His grandmother was a longtime volunteer at the Historical Society.  The graphic novel, which they ran out of during his appearance during DJJD, is back in stock and available for purchase.  The show is at the Museum from 5:30 to 7:30 this evening.
Save the Depot dedicates sculptures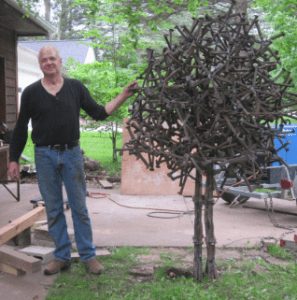 Save the Northfield Depot is also participating in Give to the Max Day.  Alice Thomas, who has spearheaded the effort to restore the Depot for years, was excited to share the news of the dedication of donated sculptures.  The public is invited to the ceremony at 2:30 tomorrow afternoon. The Northfield Depot acquired the three sculptures and donated one of them, 'Flame', created by Nick Swearer, to the City for the space at Hwy 3 and 3rd st.  'The Tree', also made by Swearer, was created with railroad spikes he picked up within 150 feet of where the Depot now sits.  There were at least 13,000 because over 12,000 were used to create Iggy, the Iguana, that's been sitting at the Science Museum for over 30 years.  The final sculpture was created by John Maakestad in the '60's. It's called 'Wind piece'. Thomas said it's an interactive piece of art and they're excited to have it. Her full interview is on kymnradio.net.  
Colleges give annual donation to City
St. Olaf College and Carleton College made their annual donation to the City of Northfield on November 14th.  This year's donation is $156,000, split by the two colleges. St. Olaf Vice President and Chief Financial Officer Janet Hanson and Carleton Vice President and Treasurer Fred Rogers presented the donation to Northfield Mayor Rhonda Pownell and Northfield City Administrator Ben Martig. Click HERE for full story.