By Teri Knight, News Director
Law enforcement agencies have been using drones for a few years but the price has been too high for Rice County's budget. Sheriff Troy Dunn said he's looked for grants but just recently, after hearing Dunn talk about it, someone came into the office and offered to purchase one for the department. Dunn said, "Tom McDonough, who passed away a short time ago, donated $15,000 to help purchase a drone for the sheriff's office." About the one they purchased, he said, "There's only so much room on the drone so we went with a regular high definition camera and then the infrared camera so we can use it for searching at night." Particularly helpful will be searching for people caught in the river or in wooded areas. Special zoom cameras and larger ones that can stay up longer can go for more than $20,000. They'll be looking to possibly purchase another one that could be used with all the local law enforcement agencies. He
added that they must be careful not to intrude on individual privacy. If using it for criminal activity, they would likely have to get a warrant to use the drone. Dunn commented on the donation from Mr. McDonough, saying "…and I just think it's fair that he gets the recognition he deserves for his donations to the Faribault Police Department and Rice County Sheriff's office and his supporting us in so many ways. He's made donations in the past to the K-9 programs in Faribault and Rice County, so thank you."  Two deputies are now going through training to operate the device which they expect to complete in the next couple of weeks.
Change order and more work continues to complete 2018 Division St. project
With the re-engineering of Division Street from 6th to 8th Streets last year, there has been problem after problem. This week council approved a change order for the intersection at 8th and Division. Mayor Pro Tem Brad Ness explains, "The seam that met the old pavement and the new pavement, there was a bump that wasn't anticipated so that had to be taken out, regraded, repaved." That was $28,000. There were numerous complaints regarding the bump outs along Division Street that hindered those coming and going from Family Fare and [other] businesses across the street. The project contingency fund was about $375,000, which will likely all be spent after the bills come in. Additionally, the rejection of the concrete work and subsequent lifting and repouring has created some chaos for the businesses in the area. City Engineer Dave Bennett said Tuesday night that he hopes it's done before winter; they're waiting on some rebar.  
Rice County Area United Way launches new website

On July 1st, it became official that the Northfield and Faribault United Ways joined forces and became the Rice County Area United Way. Executive Director Penny Hillemann said they just launched their new website at ricecountyunitedway.org  The focus of the United Way is three-pronged: education, health and basic needs. Hillemann asks the community to consider donations online, through your workplace or by mail. You can find all that information plus a whole lot more on their website. She added that they're currently looking for more Faribault board members. They kicked off their fundraising this month with events in Faribault and Northfield. 
Northfield Shares accepting grant applications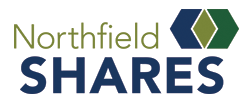 Northfield Shares is now accepting grant applications. Grant chair Donna Rae Scheffert said you have until October 15 to submit your proposal. The grant committee will make their decisions in mid-November with awards given out before the end of the year. Scheffert explains that residents, nonprofits and governmental groups within the Northfield School District are eligible to apply. There are two dedicated funds for beautification and youth development. Grants are awarded to projects responding to a community need or opportunity. Go to northfieldshares.org for an application and more information. Northfield Shares absorbed 5th Bridge to help advance volunteerism as well as their philanthropy advancement and collaborative leadership. Northfield Shares is also searching for a new Executive Director as [current ED] Mike Krance is stepping down.