By Teri Knight, News Director
The Cannon River at Northfield reached 898 ft above sea level yesterday. That's a foot above minor flood stage. It's been dropping slowly and is now around 897 ft.  At this stage the west side of the Riverwalk is flooded, as is Babcock Park, parts of Ames Park and the Carleton soccer fields. Barricades are up on the various trails. The National Weather Service predicts the river to drop below flood stage sometime tonight.
Two in custody after welfare check
Last Thursday, Faribault police were called on a welfare check at the Burger King for a man sleeping in his car. When officers arrived, they found two men, who appeared unconscious, inside the running vehicle. Officers could see drug paraphernalia in the vehicle through the windows. 34-year-old Jeffery Neal Conrad of Faribault and 27-year-old Dustin James Pirami of Northfield required several announcements, and Pirami had to be shaken several times, before the pair would wake up. A search of the vehicle
revealed two 'burner' phones, $150 in cash, a total amount of drugs that included 10 grams of methamphetamine, packed in six separate baggies; 116 grams of marijuana in individual packages; four oxycodone pills and two live marijuana plants. Pirami and Conrad are both charged with multiple felonies including 2nd degree drug sale. Conrad's bail was set at $50,000 with conditions; Pirami's was set at $5,000 with conditions. They're both scheduled to appear in court on Thursday. Conrad has multiple convictions involving drugs. Pirami was convicted in June of theft. 
Nfld Council OKs more $ for analysis of bike lane, bump-outs and infrastructure
The Northfield City Council okayed an additional nearly $82,000 last week to enlarge the project scope of the 2020 mill and overlay street projects. The proposed changes, which will be done by Bolten and Menk, include a feasibility study of a protected bike lane on College Street from First Street to Third Streets, which would replace parking on the west side; storm drain placement and improvements analysis; and a bump-out analysis of the entire project area, which is on the east side of the downtown and includes portions of sixteen streets. According to the contract,  they'll review pedestrian flow by onsite observation of up to one day. Pedestrian counts will not be recorded. For purposes of developing their fee, they've assumed four intersections will be surveyed and the design will include bump-outs at all four of them. The council will vote later this year on the project in full as they go out for bids. Tomorrow night, the council will be holding a work session on their 2020 budget. 
NAFRS biennial Open House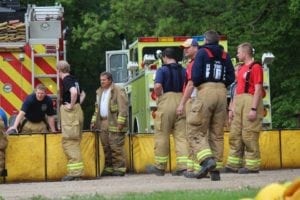 October is fire safety awareness month. That means the Northfield Area Fire & Rescue Service (NAFRS) is busy, presenting to about 1300 elementary students in the Northfield district. On Thursday, October 10, they'll hold their biennial Fire Prevention Open House from 5:30p.m. until dusk. Fire Chief Gerry Franek said they'll have an auto extrication demo and fire extinguisher training. Northfield Police, EMS and a Rice County Sheriff's deputy will be there. They typically bring their K-9 unit. North Memorial will land a helicopter if they're not busy. At dusk they'll close the 5th St. Bridge for a propane burn. The trucks will be open for the kids (and adults) to go through and firefighters will be on hand to answer questions. There will be hotdogs and refreshments. Franek said the most important thing is the fire safety message and that the kids share it with their parents.