By Teri Knight, News Director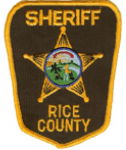 Rice County Deputy Sheriff Jesse Thomas updated KYMN late yesterday afternoon on the suspicious fire at the Flying J Truck Stop. Upon inspection, the Fire Marshall ruled it an electrical fire that started in the engine compartment. As for tracking down the owner, he had sold it but there was no bill of sale. He paid to have the motorhome towed. 
NPD already implementing Novak study changes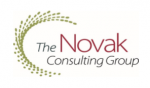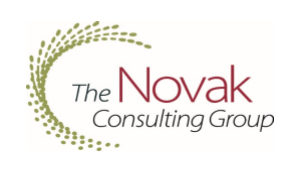 The Novak Consulting Group recently evaluated the Northfield Police Department, looking at all aspects. Two representatives from Novak shared the full report with the city council last week. Police Chief Monte Nelson said they also spoke with their sergeants group and administrative team, adding, "We already have implemented a schedule change for next year that aligns with some of their recommendations in the study." The biggest thing that came out was that Novak recommended the
hiring of three positions. One, a sergeant, is on for the city's 2020 budget. Nelson said there are other items that inform their strategic plan including, "…Efficiencies. Some of them will be cost savings, money saving steps, some are good practice and better practice in liability reducing issues like having better supervisory coverage." The study included face-to-face interviews with every employee as well as an anonymous survey in which over 90% of employees participated. Nelson said they were really happy with that. Adding that the consultants "…were very surprised with that. They said normally in police departments they're in that 30% response range." The Novak study is :  2- Northfield MN Police Staffing Study – Final – 11.04
NHS grad sworn in to NPD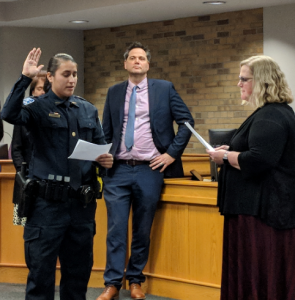 The NPD hired a temporary full-time patrol officer to replace the deployed Kyle Watkins, who will be gone for at least a year. Champange Eiklenborg was sworn in last night to a packed chamber of family members, friends and former co-workers. [The audio of her swearing-in is in the link below.] Eiklenborg went to Northfield High School and was part of the TORCH program. She credits Sgt. Thad Monroe, the SRO (School Resource Officer) at her time in high school, as one of the reasons she became a police officer. She's been a Reserve Officer in Goodhue County, was a Northfield EMS Explorer, a Northfield Police Reserve, and worked for three years with the MN Dept. of Corrections at Faribault where she gained a lot of experience.
Breadth of Northfield HRA/EDA activities are overwhelming
The Northfield Council heard presentations from the HRA and the EDA as they head into budget and levy decision time. City Administrator Ben Martig commented this morning, "The breadth of the activities that they're involved in is overwhelming. That's where it's nice to bring them in every once in a while just to put it in perspective. The big news, I think, of the evening that was a surprise to me too is…" that HRA Coordinator Janine Atchison discovered that on the agenda of the MN Housing Finance Agency meeting scheduled for tomorrow, it included a recommendation to approve dollars for Northfield's Spring Creek II Townhome project for next year. It's not been voted on yet but, "…that's a 32-unit townhome project with two, three and four bedrooms. If funded construction would begin in August of 2020. And we've got Three Rivers as a partner on the project. The city owns the property and the first project was very successful." Martig said this is an important affordable housing project for the city. Martig and Mayor Pro Tem Brad Ness were in studio this morning with a recap. Their full interview is on kymnradio.net.