By Teri Knight, News Director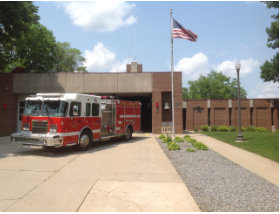 A blaze near two large LP tanks early Saturday morning had Faribault firefighters initially fighting to cool the tanks that were venting gas and keep the fire contained to the 30 x 52 foot shed. Just after 1 a.m. Saturday morning, the Faribault Fire Department, Rice County Sheriff's Deputies and North Memorial Ambulance responded to 2687-158th Street East. Fire Chief Dustin Dienst reports that the building was engulfed in flames when responders arrived. Windy conditions were blowing hot embers at both the home and another out building. Crews were able to keep the fire from spreading and the LP tank fires were mitigated. Sheet metal roofing was pulled out by hand by
firefighters and the fire was extinguished. The fire is under investigation by the Faribault Fire and the State Fire Marshal's Office. Dienst commented, "Thankfully no one was injured in this fire. With the weather conditions, wind direction and the two large LP tanks involved there was opportunity for this fire to have caused a lot more damage."  
Northfield Council to vote on 9.4% tax levy tomorrow – public comment available online
The Northfield City Council will be holding public hearings tomorrow night during their regular meeting, including for the 2020 mill and overlay project and the 2020 budget and tax levy. Immediately following the budget and tax levy hearing will be voting on the HRA, EDA and city tax levies. The city is considering 9.4% tax levy. They'll also consider and vote on their 5-year capital equipment plan and capital improvement plan. Following that, they'll vote on the 2020 budget, which is proposed at over $10.2 million. You can comment online on the city's website at ci.northfield.mn.us now through noon tomorrow. Meetings begin at 6 p.m. and the public is encouraged to attend.
Northfield School District sails through audit
The Northfield School District received their audit. Superintendent Dr. Matt Hillmann said there were "zero findings" in their audit. No internal control findings, no "yellow book" compliance findings and no single audit findings. Hillmann said less than 20% of school districts received this type of clean audit. Hillmann praised the finance department, led by Val Mertesdorf and her team. Hillmann's full interview is on kymnradio.net.
Pesta heads to Hastings
Kenyon-Wanamingo Schools Superintendent Dr. Jeff Pesta is headed to Hastings. The former Northfield Middle School principal will take over as Interim Superintendent on January 1st for the remainder of the school year. Dr. Pesta holds a Bachelor of Science degree in biology and business administration, a Masters in Science Education from the University of Minnesota and a Doctorate from the University of St. Thomas. 
Rice County Commissioners to hold public hearing on 10-year transportation plan

The Rice County Board of Commissioners will hold a public hearing on Tuesday, December 17, 2019 at 9:30 a.m. in the Commissioner's Room in Faribault. The purpose is to receive and consider comments by the general public and governing bodies of cities and towns within the county, in regard to the Rice County Board of Commissioners' proposed modifications to the 10-year Transportation Capital Improvement Plan. We have posted the documents sent by Highway Department engineer Dennis Lubbe and a map on our website under our Community News page.