By Teri Knight, News Director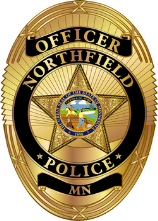 There's been a recent rash of vandalism in the City of Northfield. Police Chief Monte Nelson reports that Northfield officers have identified two juvenile suspects and continue the investigation of at least five reports of damage to property via spray paint. Because the investigation is still open, his department isn't releasing any further details at this time. Chief Nelson added that he's very proud of several officers who worked together to identify the suspects and gather information and evidence in these cases. He encourages any victims of similar damage to property to call and report it with the police department. The non-emergency number is 507-645-4477. If you see it in progress call 911.
Northfield levy at 9.4%, Rice County likely to be 6.2%
In the news last week, Northfield City Council approved a 9.4% tax levy. The vote was 4 to 2 with Mayor Rhonada Pownell wanting more dollars for parks and streets. Councilor David DeLong felt the levy should be lower, stating those with fixed incomes are having a hard time meeting the continued rising taxes. One man told council they use residents like a credit card and should put their "pet projects" on hold. Councilors Jessica Peterson-White, Suzie Nakasian, Erica Zweifel and Clarice Grabau voted yes. The Northfield levy resolution and presentation:1- 2020 Budget Update 12.3  1 – Res 2019 Adopt 2020 City Levy 9   

Additionally, Rice County held their public hearing last week on taxation. Commissioner Galen Malecha said they will likely set the levy at 6.2%. Malecha said how that affects you will vary  depending on the valuation of your property. An increased valuation is great when you want to sell your home, but not so much when you want to stay. While government costs money, he believes Rice County is very conscious of how they spend people's money. In "per capita ranking," Rice County comes in at 83. The county had been at 87 for a time but Malecha said that's not realistic. There are only 87 counties in Minnesota. The Board will vote on the levy at their next meeting.
Benedictine Living now open
After years of consideration and two years of construction, the Benedictine Living Community of Northfield has opened. In a press release, the first residents of the new new senior living community started moving in on December 1st. Located across from Northfield Hospital + Clinics, they offer independent living, assisted living, and memory care apartments. Services include chef-prepared "made to order" meals in a restaurant-style dining room, housekeeping and laundry services, a club room, beauty/barber shop and more. Sales and Outreach specialist Kernal Buhler said, "Benedictine Living is a beautiful community that affords residents the comforts of a carefree and maintenance-free lifestyle." The full press release is HERE. 
Snowflake ornament hunt is on! 
The Winter Walk Snowflake Ornament Hunt is underway. Northfield Chamber President Lisa Peterson and her assistant Jane Bartho talked about all the fun happenings during Thursday night's upcoming Northfield Winter Walk. Go to kymnradio.net and listen for their interview and, of course, find the clues for the Snowflake hunt. They are posted at 8 a.m. each day until it's found!