By Teri Knight, News Director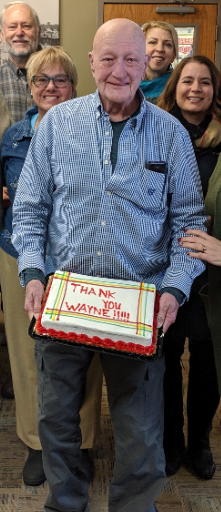 … audio starts with the Ballad of Wayne Eddy (listen below)   It's the end of an era, not just the decade. After over 51 years on the air at KYMN, Wayne Eddy announced his retirement on Tuesday. He has over 10,000 interviews under his belt with over 2,000 in the last 14 years on The Wayne Eddy Affair. Eddy leaves a lengthy legacy including induction into the Minnesota Hall of Fame in 2007. In total he's been on-air for over 55 years. For his last show, he lined up a cast of those people he counted on as regulars. Susan Hvistendahl shared some statistics, "you were given the Joseph Lee Heywood Award in 1990, Jaycee's Distinguished Service Award, National Jaycee Ambassador Award and think of the many fundraisers that you have been involved in that have raised millions of dollars. That's something to really be proud of".  He was also one of the founders of the Northfield Historical Society. Hvistendahl shared Eddy's first words on KYMN, "you're listening to the new sound in town, KYMN radio, let's boogie", adding the words she wrote in an article, "the uplifting strains of Up, Up and Away sung by the Fifth Dimension soared out over the airwaves as announcer Wayne Eddy initiated the first broadcast of KYMN radio Northfield September 27th, 1968". Brett Reese thanked Wayne, saying, "it's been really enjoyable. You're a great promoter/ambassador of Northfield. I hope that continues on as your are, you have been Mr.
Northfield over the years and great memory of you, I used to listen to you on the Big KYMN Auction". Stu Voight also commented, "speaking for some of the Vikings players, you were always the guy we liked to talk to because you always made us feel comfortable. You're a great friend and will continue to be a great friend and on behalf of all those older Minnesota Vikings, most of them have been on your show, we always appreciated coming down here and talking to you". And Eddy signed off, "it's 11 o'clock and I'm going to say farewell, thank you, it's been a great ride". His last show is archived HERE. Station Owner, Jeff Johnson, said Wayne is invited to come back occasionally with special guests. The Ballad of Wayne Eddy was written by Scott Richardson and performed by Craig Wasner.
Ditch the diet, get a plan with nutrition coaches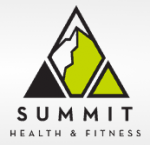 It's a new year, a new decade and the season of indulging is over. Of course that means a lot of people considering fad diets and fasting but Nutritional coaches Kim Aronson and Amie Chambers of Summit Health are more interested in assisting people one on one. As Nutrition coaches, Chambers said, "so we look at people's goals whether it be weight loss or performance, gaining strength, losing fat and we address those goals very specifically by creating a unique nutrition plan just for them". She added, "you can't say that what you should eat is what I should eat. It really should be unique to you, your goals and how your body functions". Typically, Aronson say we're not eating enough. She explains that we're often tired because we don't give our bodies the energy they need. She admitted that was a hard concept to understand at first. What Summit Health advocates is eating the right kind of nutrients. Chambers says our metabolism is much life a fire, "it can get stagnated. Maybe that fire, that flame starts to go out. Well, what do you do to make that fire stronger? You add wood. We all know that, we understand that. Whether it's a bonfire or a stove inside your house, you add fuel to the fire to fire things up. So that's what we help people understand is, how much fuel, what kind of fuel and what are your goals". They don't advocate dropping any types of food, it's the balance they're after. Chambers and Aronson have created a program called "Life-changing Healthy Habits" which is offered to the Community through the School District starting January 8th. (the above link takes you to registration for the class) You can also learn more at summithealth.fitness.