MEDIA RELEASE       January 8, 2020
For immediate release         Contact: Chief Andy Bohlen, 507-334-4305
                Captain Neal Pederson, 507-334-0921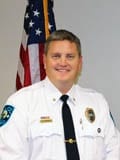 FARIBAULT – On Tuesday, January 7th, at about 8:17pm, Faribault officers were dispatched to a reported robbery in progress at JoAnn Fabrics, 200 Western Avenue. The suspect was gone at the time officers arrived. Two employees were on duty at the time. Employees reported the suspect entered the store a few minutes earlier and stated he was waiting for a ride. The suspect approached one employee asking to buy some merchandise. When the employee approached the cash register, the suspect approached her from behind, poked her in the back with an object and told her to open the register. The employee stated she could not, and the suspect instructed her to scan merchandise and open the register. The suspect hit the employee in the back 2 – 3 times and fled the store. The clerk described the weapon as a baton. The employee suffered bruising from the assault, but did not require medical attention. No money or merchandise was taken.
At the same time, a second employee heard the screaming, ran to the back of the store and called police.
The suspect is described as a black male, approximately 6 feet tall, wearing a black puffy coat, black beanie hat, black sweatpants, black shoes, gloves, and a gray scarf over his face. No vehicle description was received.
Detectives are working with Steele County investigators who are investigating a robbery by a suspect matching the description which occurred at the Medford Outlet Center a short time prior to the JoAnn's robbery.
Chief Andy Bohlen commented, "Our detectives are working diligently to identify this person. We are grateful for the quick action of the employee to call police. Our thoughts are with the employees as they recover from this traumatic encounter."
Detectives are working to obtain surveillance footage. Anyone with information is asked to contact Sergeant Matt Long at 507-334-0952.