Students from St. Olaf College in Northfield are visiting Washington, D.C. this January for a course titled, "Democracy and the Arts"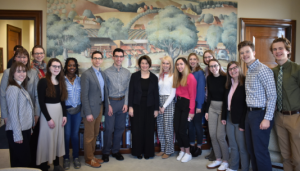 WASHINGTON – This week, U.S. Senator Amy Klobuchar met with students from St. Olaf College at her Senate office in Washington, D.C. The students, on a month long fine arts and politics course in Washington, D.C., titled "Democracy and the Arts," are led by Assistant Professor of Music, Louis Epstein, and Assistant Director of Academic Civic Engagement, Alyssa Melby.
"It was a pleasure meeting with St. Olaf students studying democracy and the arts in Washington, D.C. Our students are the leaders of tomorrow, and I am proud to see them representing our state so well in our nation's capital," Klobuchar said.
"Meeting Senator Klobuchar in her office was a powerful experience for me and for the students. We're learning that with a little research and a lot of showing up, we can have a say when it comes to arts policy at the local, state, and federal levels," said Louis Epstein, Assistant Professor of Music at St. Olaf.
Marlee Baron, a sophomore Sociology/Anthropology major, said she was "thrilled" to meet Senator Klobuchar, and Holly Beck, a sophomore History and Religion major, was equally delighted by how accessible Senator Klobuchar was and by the delicious pastries served as part of Klobuchar's "Minnesota Morning" event, when constituents can come to her Senate office and meet both the Senator and her staff.
Founded in 1874 by Norwegian Lutheran immigrants, St. Olaf is a nationally ranked liberal arts college of the ELCA located in Northfield, Minnesota.
The month long St. Olaf course, "Democracy and the Arts," is part of the college's interim program, where students complete a month long intensive course in January. This month, the St. Olaf students in Washington, D.C. are exploring the intersection of arts and government by meeting with professionals in varied fields and visiting galleries, performances, and civic organizations.  
Senator Klobuchar's office hosts "Minnesota Morning" Thursday's when the Senate is in session in her Washington, D.C. office and invites all Minnesotans who are visiting the city to attend. Visitors can hear first-hand accounts of Klobuchar's work in the Senate, mingle with fellow Minnesotans visiting Washington, meet the Senator's staff, and take photographs with the Senator. To find more information regarding "Minnesota Morning,'' visit Senator Klobuchar's website at klobuchar.senate.gov or call her office at (202) 224-3244.
CAPTION: U.S. Senator Amy Klobuchar welcomes students and professors from St. Olaf College to her Senate office in Washington, D.C.