By Teri Knight, News Director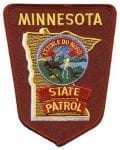 A Glencoe man was killed in a crash on Hwy 19 last night. About 5:30 last night 34 year old Anthony Mancino was driving westbound on 19 at the curve from Lonsdale. A vehicle driven by 72 year old David Wolf of Northfield was eastbound on County Road 2 approaching Hwy 19. They collided at the intersection. Mancino, who was not wearing a seatbelt, died at the scene. Wolf failed to yield at the stop sign. State patrol was assisted by Lonsdale Fire, their Police Dept, Rice County Sheriffs Office and Northfield Ambulance. An investigation is underway.
Dundas narrowing down candidates for Police Officer positions
The City of Dundas interviewed eleven candidates for the full time Police Officer position, narrowing the field to five for a second round. Administrator Teppen reports that they're now conducting background checks and physical abilities for two part time police officer positions. She also noted that they are looking for a part time assistant for the City Clerk, a position that could become full time when current Clerk, Linda Ripka retires. Teppen was in studio this morning, her full interview is HERE. 
Duckworth announces Dist. 58 Senate run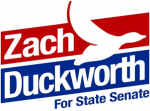 A Lakeville Republican is set to challenge a Lakeville Democrat for the Senate seat in District 58, which covers the part of Northfield in Dakota County as well as Lakeville, Farmington, Randolph and surrounding townships. Zack Duckworth has announced his bid to unseat Matt Little in this year's Senate race. Duckworth, a Veteran, volunteer firefighter, and Lakeville School Board Chair, grew up in Lakeville, married his high school sweetheart and has two children, they operate a small business. Duckworth Press Release 
Nfld Chamber celebrates 2020 honorees
This week, the Northfield Chamber of Commerce celebrates the 2020 Business of the Year, Business Person of the Year and Ambassador of the Year. Chamber President Lisa Peterson explained that, for Business PERSON of the Year, a group of past winners choose the current winner. Out of eleven nominations, Tim Freeland of Edina Realty, received the Honor. The Chamber Board chooses the Business of the Year. They had ten nominations and chose Aldrich Technology on Division St. Peterson commented that it was not an easy choice for either category. She commended the committees for their thoughtfulness in selecting the winners, weighing how they've grown their businesses and their support of the community. The Ambassador of the Year is Marty Benson, who has been with the Chamber for decades and makes it to nearly every event. This year's banquet will be held Thursday at Armory Square. Cafe Shawn will be catering the event. The Home & Garden Show is April 4th. If you have a business you'd like to showcase, there are open spaces yet. Contact the Northfield Area Chamber.
LBSA named 2020 Human Rights Award winner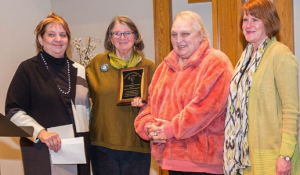 Employees of Laura Baker Services Association received the 2020 Human Rights award given out by the Northfield Human Rights Commission during the annual Martin Luther King, Jr. community celebration at Emmaus Church. HRC member Angelique Dietz said, "We like the Human Rights Award to go to organizations and individuals who do not just meet the requirements of their mission statement, or their job description, but who go well beyond that". Laura Baker Services has served those with special needs in Northfield since 1898. They launched their annual Community Thanksgiving Dinner about 20 years ago, which has become "the thing you do on Thanksgiving Day" for many. Dietz added that their work serving those with special needs combined with their volunteer efforts towards bringing people together who otherwise would never meet or interact, is in the spirit of what Dr. King. Employees of Laura Baker win Human Rights Award press release